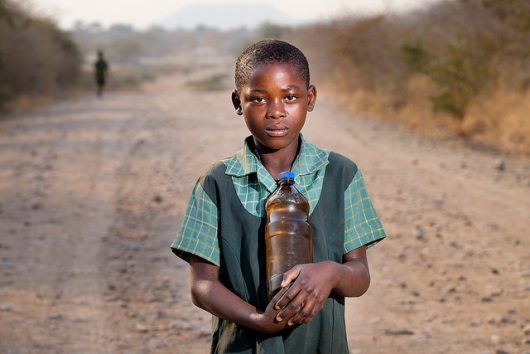 One in nine people worldwide have little access to clean water, and, in developing countries, 80 percent of illnesses stem from unclean water and lack of sanitation. Water is the most integral component required to sustain human life, and in 2010, the United Nations General Assembly recognized clean drinking water and sanitation as an essential human right. Here are five innovative new ways organizations and people are working on the problem of how to provide access to clean water throughout the world:
The OmniProcessor
Invented by Peter Janicki and his team at Janicki BioEnergy, the OmniProcessor is a machine that can convert 14 tons of sewage into water and electricity. The OmniProcessor can have an enormous impact on the two billion people on the planet who cannot properly dispose of waste. This waste eventually makes its way into water sources, which contaminates it and can spread diseases such as cholera and dysentery. The OmniProcessor solves both problems with one machine. Bill Gates, whose foundation gave Janicki a grant to research the OmniProcessor once stated, "If you can get thousands of these things out there, then you have ensured the people will grow up healthily."
The SaTo Pan
This innovative toilet, supported by the Bill and Melinda Gates Foundation, is an alternative to open defecation, and a game-changer when looking at the problem of how to provide access to clean water. The toilet is made of plastic and thus is much more affordable that other restroom alternatives.  The toilet works by closing off the pit latrine from the open air and reducing the amount of water needed to flush waste. This simple but inventive SaTo pan (the name is derived from "Safe Toilet") prevents water from being contaminated by waste left behind by open defecation and is a sure step in the journey to provide clean water access to all.
SODIS
SODIS (Solar Water Disinfection) is a method ideal for purifying water in developing countries. All one has to do is take a clear plastic bottle, fill it with clear water and set it out in the sun for six hours or more. The UV rays in the sunlight hitting the bottles will kill viruses, bacteria and parasites that may contaminate the water, making it clean and safe to drink. SODIS is an easy, safe and inexpensive method which makes it ideal for the world's poor.
Microloans
Another solution for the problem of how to provide access to clean water is to empower the people searching for access. Microloans are a way of doing just this, providing small loans to people who otherwise would not be approved for loans at all. According to a study done by A. M. Muazam Husain, "microcredit loans provided to women in Bangladesh increased the presence of latrines in their households from nine to 26 percent over three years." When given the opportunity, people without clean water and proper sanitation, especially women in families with children to look after, actively seek it out.  This kind of change is sustainable because it teaches individuals to solve their problems without the help of outsiders.
The Water Project
The Water Project is an innovative non-profit that does on-the-ground work in sub-Saharan Africa to build wells, dams and systems to catch rainwater. They collaborate with in-country teams to ensure that the services they are providing are needed and sustainable.  They also regularly check in on projects they have sponsored to ensure they are going well. Anyone can contribute to the water project simply by raising awareness, fundraising or sponsoring an entire project. These sorts of organizations are an integral part of broadening access to clean water in the developing world.

In the past ten years, the world has made leaps and bounds in how to provide access to safe drinking water and sanitation. Moreover, with more investment in research, an increase in aid to nonprofit organizations and a continued commitment to finding innovative solutions to the lack of water, access to clean water is sure to become a certainty for every single person in the world.
– Adesuwa Agbonile
Photo: Flickr
https://borgenproject.org/wp-content/uploads/logo.jpg
0
0
Borgen Project
https://borgenproject.org/wp-content/uploads/logo.jpg
Borgen Project
2017-07-08 01:30:53
2020-05-15 20:28:10
How to Provide Access to Clean Water In Innovative Ways