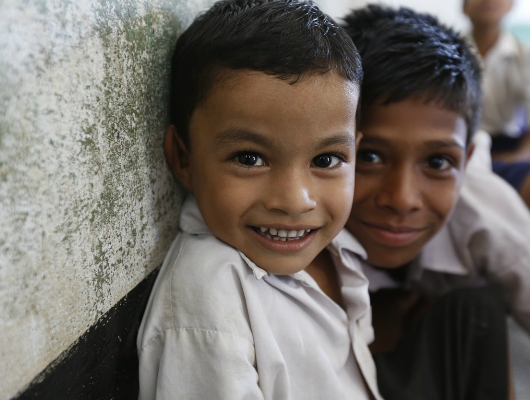 The goal to eradicate global poverty continues to be a growing challenge facing the world today. This year, an estimated 700 million people worldwide still live below the poverty line.
In a survey conducted by the charity Action For Happiness, they identified ten everyday habits that make people happier.
On a scale of 1-10, each habit was ranked based on how frequently people performed each habit.
The number 1 ranked habit, at 7.41, was giving.
"Practicing these habits really can boost our happiness. It's great to see so many people regularly doing things to help others — and when we make others happy we tend to feel good ourselves too," said Professor Karen Pine, a psychologist involved in the study.
Here are three simple ways people can become involved in the fight to eradicate poverty:
Join an Organization: Ending poverty is not solely the job of world leaders, but individuals worldwide can do their part as well. People who are passionate about ending poverty can join a network of supporters who share similar ideas and strategies.Examples of non-profit organizations include ONE Campaign, UNICEF, CARE, and The Borgen Project.
Contact Your Congressional Leaders In the United States, each state has two senators and a number of representatives who enjoy hearing thoughts and suggestions from their constituents.With phone numbers and emails easily accessible, senators and representatives keep a tally of every issue their constituents call or email about. A simple phone call or a click of a button can determine if a bill is discussed in the Senate or House. Learn more about how easy it is to email and call Congress here.
Set up a Fundraising Page: Online donation pages can be built with donation sites including Donor Drive and GoFundMe. Using social media, people can persuade friends and family to donate to a worthy cause.
Through global poverty efforts, everyone can play a role in ending poverty while simultaneously feeling better about their well-being.
"Extreme poverty has been cut in half in the last 20 years, and the facts show that we can get it to virtually zero within a generation – but only if we act," said Bono, musician and global activist.
– Alexandra Korman
Sources: Global Citizen, PSY Blog, The Borgen Project
Photo: Flickr
https://borgenproject.org/wp-content/uploads/logo.jpg
0
0
Borgen Project
https://borgenproject.org/wp-content/uploads/logo.jpg
Borgen Project
2015-11-11 01:30:29
2020-06-24 19:28:15
Active Involvement in Global Poverty Efforts Equals Happiness