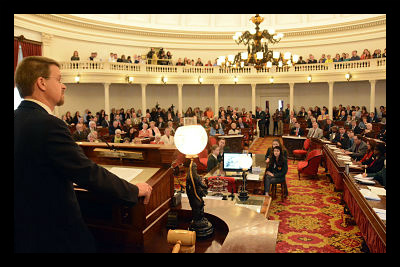 The dawn of 2015 not only means a new year, but also a new legislative session for the freshly initiated 114th Congress.
In this new legislative session, old anti-poverty bills that died in committee last year have a chance to be reintroduced, and other new foreign assistance bills are being introduced for the first time.
One newly reintroduced bill is H.R. 57: The Equal Rights and Access for the Women of South Sudan Act. The bill, introduced on Jan. 6 by Texas Representative Sheila Jackson Lee, promotes the belief that much more U.S. assistance is necessary in South Sudan, particularly with regards to women's prosperity.
The bill aims to channel greater portions of U.S. relief assistance to local South Sudanese groups, particularly Sudanese women's organizations, as well as increase women's access to land, water, agricultural inputs, credit, and property, among other goals.
On Jan. 9, California Representative Barbara Lee introduced House Concurrent Resolution 6, which promotes the belief that the U.S. should annually dedicate at least one percent of GDP for nonmilitary assistance programs.
According to the Organisation for Economic Cooperation and Development, the US currently spends approximately $31 billion, or 0.19 percent of GDP, on nonmilitary foreign assistance annually.
The concurrent resolution would require majority approval from both houses of Congress, but would not require approval from President Obama.
A handful of other anti-poverty bills either died in committee last year, or passed one house but failed to go past committee in the other.
One such bill was the Global Food Security Act of 2014, which authorized a new U.S. foreign assistance strategy to reduce global hunger and improve nutritional outcomes in developing countries. The bill passed the House last September but died in committee in the Senate.
The House Electrify Africa Act, which promoted greater access to electricity and renewable energy in Sub-Saharan Africa, saw a similar fate last year. The bill passed the House last May but never got past a committee vote in the Senate.
Nevertheless, it is not unusual for failed bills to be reintroduced and passed in a new session. The Paul Simon Water for the World Act of 2014 promoted revisions to a 2005 act of the same name that provided greater access to clean water for over 2.5 billion people worldwide. The revised bill was first introduced in 2011, and was reintroduced every year thereafter until it was signed into law in December 2014.
– Katrina Beedy
Sources: Government Tracker 1, Government Tracker 2, Government Tracker 3, Government Tracker 4, Government Tracker 5, The Borgen Project, Slate, Water Aid, U.S. Congress
Photo: Digital
https://borgenproject.org/wp-content/uploads/logo.jpg
0
0
Borgen Project
https://borgenproject.org/wp-content/uploads/logo.jpg
Borgen Project
2015-01-25 04:00:09
2020-07-17 21:52:59
Key Anti-Poverty Legislation to Look For in 2015