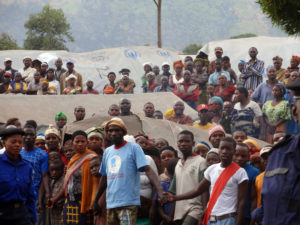 The Democratic Republic of the Congo (DRC) is a country roughly three times the size of Texas, rich in fertile land, minerals, precious metals and potential for green energy initiatives. Despite this, approximately 72% of Congolese people live in extreme poverty. Located in central Africa, the DRC has experienced decades of dictatorship and civil war after gaining its independence.
The DRC enjoyed a brief respite from tension when its civil war ended in 2003, and in 2019, the nation saw its first peaceful transfer of power since independence. Though these developments are promising, many of the nearly 90 million people who call DRC home do not consistently have a home. Here are some facts about homelessness in the Democratic Republic of the Congo that are worth knowing.
Understanding Homelessness and Displacement
Homelessness in the Democratic Republic of the Congo is better understood in terms of displacement. While displaced people may actually have had resources to build a home, they have been forced to move repeatedly, usually suddenly, because of violence or disaster. The Internal Displacement Monitoring Centre estimates that more than five million people are currently internally displaced in the DRC, making up one-tenth of the entire world's internally displaced people. The Democratic Republic of the Congo is second only to Syria in terms of the magnitude of its displacement crisis.
Several factors overlap to contribute to homelessness in the Democratic Republic of the Congo. Violence by armed groups, ethnic conflicts, natural disasters, joblessness and scarcity of accessible resources all play a significant role in displacement. Any of the more than 120 armed groups operating in the region may clash with one another or the military because of political tensions or illegal mining operations. On the other hand, natural disasters like volcanic eruptions, earthquakes, fires, floods and landslides may combine with these conflicts to cause homelessness.
A significant number of the DRC's homeless people are refugees from other countries. While Congolese people often leave the DRC for other countries, about half a million displaced people in the DRC are actually foreign refugees themselves. They come mainly from Burundi, Rwanda and the Central African Republic. Many of these refugees have fled disaster, violence or instability in their own home countries. Because of this, patterns of displacement are complex, ever-changing and challenging to track.
Homelessness Among Children
Families are especially impacted by these incessant conflicts, and the instability takes a toll on children. Farming families miss planting and harvesting times due to drought or forced flight from their homes. Other displaced people may be exploited for prostitution or child labor. Similarly, some children whose parents die live unattended in the streets. In the capital of Kinshasa alone, there are about 30,000 "street children" who are at risk for assault and exploitation every day.
To combat these obstacles, between 2015 and 2017, the Danish Refugee Council helped 26,000 school-aged Congolese children return to school and trained over 1,000 teachers and volunteers. The organization has also partnered with UNICEF, UNHCR and other NGOs to provide basic necessities to households, as well as counseling services to children who have experienced trauma.
Organizations Making a Difference
Aid organizations, nongovernmental organizations and intergovernmental organizations do not always have adequate funding and capacity to protect people from homelessness. Without assistance, homeless people may stay with relatives or a host family; those without that option may resort to living in settlements made up of makeshift structures. Others find shelter in more secure displacement camps, such as UNHCR's South Ubangi Mole refugee camp in northwestern DRC, which has 15,000 inhabitants.
However, none of these situations is totally secure; armed individuals occasionally pass security checkpoints to assault inhabitants of displacement camps. Limited funding, close living conditions and insufficient sanitation do not allow residents of camps to protect themselves. This makes it easier for communicable illnesses like cholera, Ebola and COVID-19 to spread.
Humanitarian aid organizations and data-gathering agencies, along with local volunteers, lead the charge in helping track and mitigate homelessness and its effects. It is no small task to accurately measure the extent of displacement. The DRC's massive size, porous borders and challenging geography all add to the challenge of this job.
Although the Congolese government does not have its own mechanism for tracking internal displacement, outside organizations present in the DRC have developed tools to assist. The Internal Displacement Monitoring Centre uses the latest technology to compile information from organizations and locals to provide an accurate picture of displacement in the region. Its tools bring together research, real-time reports and satellite imaging to assess where the greatest needs currently are. Some other organizations also assisting displaced people in the DRC are USAID and Amnesty International.
Hope for the Homeless
Though the DRC may still have miles to go, the U.S. House Foreign Affairs Committee recently introduced H. Res 531 and H.R. 1191, a simple resolution and bill, respectively, which are aimed at protecting Congolese children. These measures, along with other existing laws, could help create more accountability for foreign entities who allow exploitation and violence that contribute to displacement and homelessness.
At a recent security council meeting, Leila Zerrougui, Head of the United Nations Organization Stabilization Mission in the Democratic Republic of the Congo (MONUSCO) commended President Tshikesedi's "reform agenda and improved relations with neighboring countries" as evidence of improvement in the DRC. President Tshikesedi himself seemed optimistic during these talks; he reiterated the gains he has made in securing the country since his election in 2019 and renewing his commitment to securing a brighter future for his people.
– Andrea Kruger
Photo: Flickr
https://borgenproject.org/wp-content/uploads/logo.jpg
0
0
Kim Thelwell
https://borgenproject.org/wp-content/uploads/logo.jpg
Kim Thelwell
2020-08-03 01:30:37
2020-07-30 12:10:09
Homelessness in the Democratic Republic of the Congo