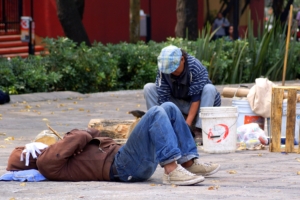 Internally displaced persons (IDPs) is an elusive term that describes homelessness in Mexico. Although the term seems straightforward, there is not an international standard definition for homelessness, and the concept and qualifications for homelessness vary from state to state. In general, those who are homeless (or internally displaced) are rough sleepers or those who live in the accommodations often available for street dwellers such as emergency temporary accommodations or homeless shelters.
Impoverishment, drug wars, corruption and violence are the norms for nearly 127 million Mexican civilians. Although only 12 percent of Mexico's entire population lives in what some consider "adequate housing" (dirt floors with tin roofs and mud walls), an overwhelming 53.3 million internally displaced persons cannot afford to live in decent housing and experience homelessness in Mexico. Many of these families must leave their homes due to criminal violence.
Criminal Violence and Displacement
Sebastián Albuja, head of the Africa and the Americas Department of the Norweigan Refugee Council's Internal Displacement Monitoring Centre, stated that "Displacement of civilians has been a significant effort of the drug war in Mexico."
As drug trafficking organizations fight for territory and drug routes, thousands of civilians have to leave because of criminal violence. Criminal violence, including sex trafficking and systemic, large-scale kidnapping, poses a serious threat to the lives and sustainability of those in cartel territories.
The United Nations Guiding Principles on Internal Displacement identifies IDPs as any persons who flee "situations of general violence." In other words, IDPs are groups of people who must flee their homes or places of habitual residence to avoid the effects of armed conflict, situations of violence or violations of human rights. The guide also states that those displaced due to natural or man-made disasters qualify as internally displaced.
Sources reveal that the proportion of individuals leaving violent municipalities, like Tijuana, are four to five times higher than those leaving non-violent municipalities. Many of these IDPs seek government protection and provision, namely housing accommodations, land and property rights, opportunities for a decent livelihood and access to basic necessities (i.e. food, shelter and health care services).
Many largely undermine the reality of homelessness in Mexico. The Mexican government historically neglects and ignores the circumstance of homelessness and internal displacement, leaving IDPs to their own devices for sustenance and security.
Indigenous Mexicans Are the Most Vulnerable
In 2017, Guerrero's indigenous communities made up less than 6 percent of the total population, yet accounted for more than 60 percent of all forcibly expelled persons during a large displacement event. That same year reports determined that Guerrero's highest rate for internally displaced persons was 168.3 per every 100,000 people.
Indigenous Mexicans are most susceptible to falling victim to forced displacement. They often live in isolated communities with inconsistent phone services and poor road conditions, making it difficult for authorities to reach them with assistance or protection. In addition, many speak little to no Spanish.
Entire communities will vacate and abandon homes in response to drug-related crimes and violence. Sources describe small towns in known DTO territories as ghost towns.
According to the Mexican Commission in Defense and Promotion of Human Rights, it considers displacement events, like the Guerro episodes that the press covered, as significant if displacement affects no less than 10 families or 50 people
The media and press are the primary entities that track displacement events because the government overlooks the issue of internal displacement. Press coverage does not track individual families or persons when reporting displacement numbers. Therefore, the number of internally displaced Mexicans is much higher than many perceive.
In fact, the only IDP cases the government accounts for are the ones that people file directly with it. The Congressional Research Service reported that civilians who experienced clashes between armed DTOs abandoned their homes because of intergang violence, direct threats and Mexican security forces. However, many IDPs do not file a case describing the circumstance of the evacuation because many municipalities do not consider criminal violence to be a political or national crisis.
As aforementioned, new interpretations of legal norms concerning internally displaced persons vary from country to country and municipality to municipality. To qualify as an IDP under the Guiding Principles on Internal Displacement, there must be evidence of coercion. Many consider that the violence in certain localities is only generalized violence and falls outside government mandates or mission statements of humanitarian agencies.
Displacement in Mexico is largely a consequence of criminal violence. Getting the necessary aid is difficult if evidence does not legally qualify an IDP as coerced into displacement. Internal displacement in Mexico is the essence of a "Catch 22."
– Marissa Taylor
Photo: Flickr
https://borgenproject.org/wp-content/uploads/logo.jpg
0
0
Jennifer Philipp
https://borgenproject.org/wp-content/uploads/logo.jpg
Jennifer Philipp
2020-04-16 14:17:55
2020-05-05 13:23:13
Criminal Violence and Homelessness in Mexico