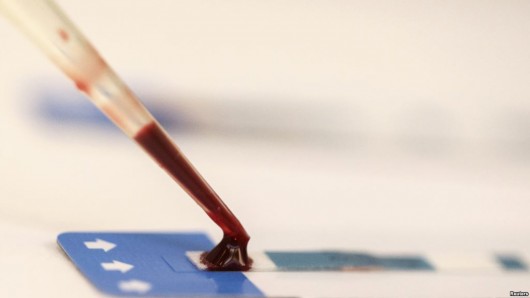 Could a smartphone-powered device save millions from HIV and other sexually transmitted diseases?
Researchers at Columbia University seem to think that it can. A study showed that a small device, which is attached to the headphone jack of a smartphone, is nearly as effective as industry-leading equipment in the detection of HIV and other pathogens in blood samples.
The catch? While current HIV detection equipment costs around $18,000, this new device, referred to as a 'dongle' costs $34 to make.
The new device to diagnose AIDS reads blood samples from a finger prick and can deliver results in 15 minutes. Researchers and developers hope the device will play a large role in the eradication of AIDS and HIV in Africa. In 2011, 70% of all deaths in Sub-Saharan Africa were reported due to complications involving AIDS and HIV.
Early detection is key to stopping the spread of the deadly virus. With such rapid response time, the device has the potential to save millions. Research shows that infected mothers who are diagnosed early and begin treatment can minimize the possibility of transmitting the disease to their unborn children to less than 1%.
The research team just wrapped up clinical trials in Rwanda with extremely promising results, and the Bill and Melinda Gates Foundation has given the project a large grant. Device developers hope to gain regulatory approval from the World Health Organization so that they can begin mass production of the unnamed tool.
The unobtrusive nature of the new device is another benefit playing to the human aspect of medicine. As the study report says "Patient preference for the dongle was 97% compared to laboratory-based tests, with most pointing to the convenience of obtaining quick results with a single finger prick."
The study also claims the dongle can prove to be more effective in the diagnosing of AIDS is because 55% of patients in Rwanda report a fear of intravenous needles. The device puts most of those fears to rest.
Portability in addition to cost is what sets the device apart. It uses the smartphone's power supply and thus can be used wherever a mobile device can be. The device is also no larger than any market standard cellular phone and hardly requires any specialized training. It could be placed in the hands of doctors, hospitals, and NGOs across the globe. Researchers are confident that with recent advances in manufacturing technology that millions of units could potentially be made for a very low cost.
– Joe Kitaj
Sources: Wired, Reuters, Science Translational Medicine
Photo: voanews
https://borgenproject.org/wp-content/uploads/logo.jpg
0
0
Borgen Project
https://borgenproject.org/wp-content/uploads/logo.jpg
Borgen Project
2015-10-01 01:30:15
2020-06-29 12:03:23
New $34 Device to Diagnose AIDS