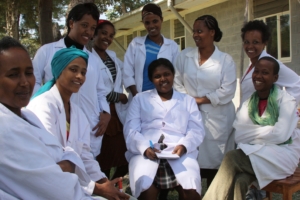 Apartheid was a system that law in South Africa enforced. It was based on racial classification that imposed
a rigid hierarchy
. The system classified people into categories of white, Indian, colored and black. These categories determined where people could live, work and go to school, as well as who they could marry and whether or not they could vote. The government displaced many people and decreased funding for social services such as education and health care for nonwhites.
Disparities During Apartheid
Health disparities during Apartheid reflected these racial categories. Non-communicable disease rates increased for whites while poverty-related diseases, such as infectious diseases or diseases that poor sanitation or living conditions caused, increased for blacks. Additionally, blacks faced much higher maternal, infant and child mortality rates which reflects access and quality to health care.
Another significant issue that arose in the health system during Apartheid was the change in the doctor to patient ratio. Estimates in the early 1970s determined that the doctor to population ratio in the Bantustans, the areas the system specifically set aside for blacks to live, was 1 to every 15,000 rather than 1 to every 1,700 in the rest of the country. This highlights the lack of health care coverage and the extent to which black and non-whites suffered systematic discrimination both economically and in terms of health care. From 1980 to 1990, the number of doctors working in the private sector increased from 40 to 60 percent. By the time Apartheid ended in 1994, almost three-quarters of general doctors worked in the private sectors, making it even more difficult for people to afford health care.
Current Health Inequalities
Health disparities during Apartheid significantly impacted the health care situation in South Africa today. There are currently severe health disparities in South Africa stemming from economic inequalities. The wealthiest 10 percent of the country receives 51 percent of the income, while the poorest 10 percent receive .2 percent of the income.
Despite the fact that South Africa groups with middle-income countries in terms of economy, the health issues in South Africa are worse than in many low-income countries. Post-Apartheid, the burden of disease quadrupled due to an increase in diseases of poverty, non-communicable diseases, HIV/AIDs, tuberculosis and increased violence and injury. While the country has made significant progress, high tuberculosis and HIV prevalence remain major issues.
Improvements in South Africa
Many consider the 1996 Constitution that South Africa enacted after the end of Apartheid to be very inclusive and democratic even compared to other countries around the world. It reflects the difficult fight against lawful discrimination and segregation and includes a Bill of Rights, acknowledging the universal right to health care services, food, water and social security. This was a significant step towards progress despite the formation of severe health disparities during apartheid.
In addition to the 1996 Constitution, the national state pension system unified and new grants emerged such as child support grants. There have also been major improvements regarding providing basic services such as water and electricity to poor households. There has been significant progress with regard to legislation, but one should not overlook the social and economic factors.
Redistribution requires priority over growth in South Africa in order to address the issues of health inequality. Following Apartheid, President Mandela focused on growth through redistribution as a way of focusing on decreasing economic inequality. After Mandela, President Mbeki's policies focused more on net economic growth rather than redistribution. In 2007, government revenue exceeded expenditure for the first time since the 1950s. The current president, Cyril Ramaphosa, has rallied behind National Health Insurance (NHI) and strongly advocates for universal health. care coverage. He acknowledges that there are enough resources in the country, so health insurance and care should be available to all regardless of ability to pay. This is a very important step for South Africa and suggests that progress will continue with regard to these health disparities.
– Maia Cullen
Photo: Flickr
https://borgenproject.org/wp-content/uploads/logo.jpg
0
0
Lynsey Alexander
https://borgenproject.org/wp-content/uploads/logo.jpg
Lynsey Alexander
2020-04-07 01:30:47
2020-04-02 10:24:29
Health Disparities During Apartheid in South Africa