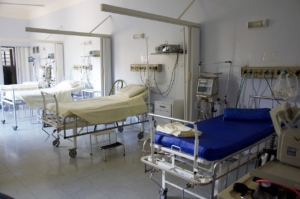 Nigeria is a country with over 200 million people and is also the most populous country in Africa. This large population is putting so much pressure on the health care system. According to a 2021 World Health Organization (WHO) survey, the health care system in Nigeria ranked "the 4th worst in the world."
The Condition of the Health Care System in Nigeria
On average, doctors attend to several patients daily, with an official ratio of one doctor to 5,000 patients. Despite this fact, a lot of doctors are still leaving. This high workload has led to a significant impact on the mental health of doctors. Mental, emotional and physical exhaustion as a result of prolonged stress is a common issue among doctors worldwide, with about 40% to 50% of doctors experiencing this in the United States. In comparison, more than 75% of doctors experience have this problem in Nigeria. Causes of this psychological stress have been linked to increased patient demand, long working hours, loss of life balance, inadequate salaries and poor working environments.
Reportedly, a high percentage of doctors have left the country because of the poor infrastructure and welfare conditions they experienced. Despite the strike and protest from doctors regarding the situation, there have been little to no desired responses or actions from the concerned bodies. Rather than finding ways of resolving the issue, lawmakers are proposing to stop the migration of Nigerian-trained doctors.
Initiatives that Focus on Improving the Health Care System in Nigeria
Although the health care system in Nigeria is poor, a number of organizations are making efforts to improve the current conditions. Intrahealth, alongside Capacity Plus Initiative and USAID collaborated with the Federal Ministry of Health and other partners to assist in the distribution of health workers through human resource intervention to areas that require their services.
Bill and Melinda Gates Foundation has also partnered with the Nigerian Government to improve health care. The organization achieved this by investing in programs that assist maternal and child health alongside immunization and pre and post-natal care.
The Northern part of Nigeria is the worst hit in terms of deteriorating health care and poverty. In 2022, three Northern states (Adamawa, Borno and Yobe) in Nigeria had more than 8 million people that needed humanitarian aid. The World Health Organization (WHO) developed strategies that aim to save millions of lives by rendering emergency health services to the most vulnerable people and locations with no health facilities.
WHO is working to achieve its goals by improving disease surveillance systems, providing nutrition, immunization and protection from gender-based violence. So far, WHO has been able to support more than 1 million people in Nigeria.
Government Efforts
The Federal Government of Nigeria through the Ministry of Health is working to bridge the gap for health workers by embarking on a "one-on-one replacement." This means that for every doctor who travels out, the government will employ another one as a replacement. In light of this, the Nigerian government is making efforts to organize internship and residency programs. It is also trying to ensure that doctors who have traveled for more than 10 years give back to the community through virtual training and other initiatives.
Looking Ahead
Efforts are underway to address the challenges facing Nigeria's health care system. Organizations like Intrahealth, Capacity Plus Initiative and the Bill and Melinda Gates Foundation are collaborating with the government to improve health care infrastructure and services, particularly in underserved areas. WHO is also working to provide emergency health services and support vulnerable populations. Additionally, the Nigerian government is implementing initiatives to bridge the gap in health workers and promote knowledge sharing. These collective efforts bring hope for a stronger and more resilient health care system in Nigeria.
– Chidinma Nwoha
Photo: Pixabay
https://borgenproject.org/wp-content/uploads/logo.jpg
0
0
Jennifer Philipp
https://borgenproject.org/wp-content/uploads/logo.jpg
Jennifer Philipp
2023-05-24 07:30:27
2023-05-20 15:49:38
How Organizations are Aiding the Health care System in Nigeria