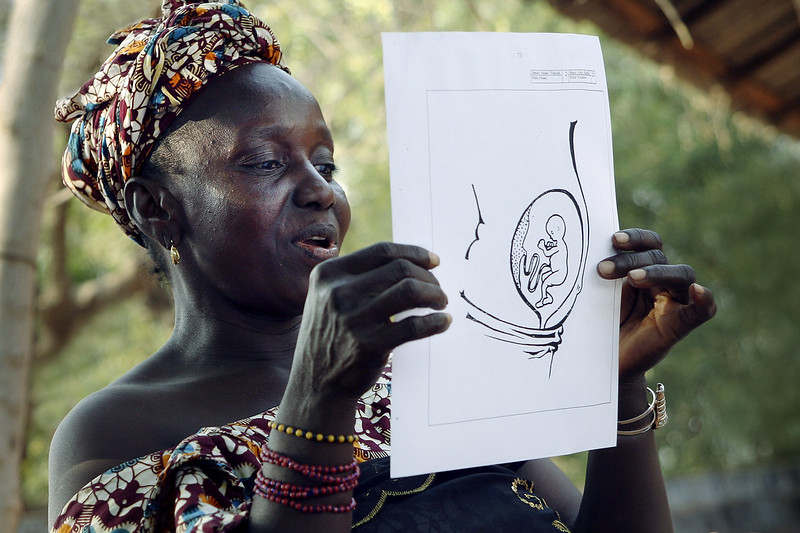 Maternal health continues to be a concern in developing countries around the world. Although overall maternal mortality decreased by 44 percent from 1990 to 2015, many nations still have a long way to go if the goal of fewer than 70 deaths per 100,000 live births is to be reached by 2030. Of note, despite improvements, the maternal mortality in The Gambia remains one of the highest in the world, with 706 maternal deaths per 100,000 live births.
Maternal mortality is a reflection of the disparities between the rich and the poor, with 94 percent of all maternal deaths occurring in developing countries. The fact that 50 percent of The Gambia's population lives below the poverty line contributes to the high rates of maternal mortality in the nation.
A majority of the complications that lead to maternal deaths are preventable or treatable. However, either because the mother is giving birth outside of a health care facility or due to a lack of supplies or expertise, the necessary care is not always provided.
The main causes of maternal deaths are severe bleeding, infections, high blood pressure and delivery complications. Other deaths are caused by malaria, AIDS and other diseases.
Contributing Factors
In The Gambia, the national maternal mortality ratio decreased by 46 percent between 1995 and 2015. This can, in part, be attributed to an increase in antenatal care coverage, as 86.2 percent of Gambian women now receive antenatal care from a skilled health professional.
For deliveries, however, only 57.2 percent take place in the presence of a skilled health professional. Most women deliver at home with a traditional birth attendant; the main barriers to giving birth in a health care facility being insufficient time to travel and lack of transportation.
Maternal health in The Gambia is further complicated by social and cultural factors that contribute to pregnancy complications and the low percentage of women who give birth at a health facility or with a health professional. A study done in rural Gambia found that there were four interrelated factors that impacted maternal health:
Pregnant women's heavy workload
The gendered division of labor
Women's inferior status in the household
Limited access to and utilization of health care
Women in rural Gambia generally work alongside their husbands on farms, a fact that does not change even with pregnancy. Gambian women described being physically and emotionally exhausted from physical labor in the field and the house, noting that they did not get sufficient rest at any point during their pregnancy.
This is connected to the way labor is divided between men and women, as women often work longer hours than their husbands, regardless of whether they are pregnant or not. Social practices prevent men from doing certain household chores while their wives are pregnant to allow them to get more rest, which contributes to poor maternal health in The Gambia.
The activities that women continue to perform can also have negative impacts. Women noted that they had to fetch and carry water from long distances, pick groundnuts and cook with firewood, all of which are health risks for pregnant women.
Additionally, women have less control than their husbands, largely because they are economically dependent on them. Despite doing equal work in the field and more work in the house, women receive no financial benefits. This keeps them from becoming economically independent and forces them to rely on their husbands, giving their husbands more power.
As a result, many women who wanted to stop working could not unless their husbands allowed it. They also could not make certain decisions, including where to give birth, without the oversight of their husbands, contributing to a lack of utilization of health care facilities. As women are often required to work up until they give birth, their workload prevents them from being able to travel to a health care facility in time for delivery.
Improving maternal health in The Gambia, therefore, is connected to women's autonomy. In addition to improving access to health care facilities and ensuring adequate supplies are available, work needs to be done to ensure that families are educated about the dangers of working during pregnancy and that women have the ability to make decisions for themselves about where to give birth.
Improvement Efforts
Other efforts are also important to decreasing maternal mortality in The Gambia. Within the last decade, the Horizons Trust Gambia and The Gambian Ministry of Health partnered with an organization called Soapbox to launch the Maternal Cleanliness Champions Initiative aimed at reducing infections from childbirth.
One of the main projects of this initiative is the distribution of Clean Birth Kits, which include soap, a clean blade and a clean plastic sheet to help ensure that expectant mothers have sanitary materials regardless of whether they are giving birth at a hospital or at home.
The Maternal Cleanliness Champions Initiative also worked to create a manual for cleanliness standards at health care facilities in The Gambia, adapting the manual to work with the local context of each hospital. The program also supported the training of facility staff to ensure that they knew how to adequately clean to prevent infections and other health complications.
These important efforts need to be combined with others to form a holistic approach to improving maternal health in The Gambia. Only coordinated efforts that are adapted to cultural and social contexts will be successful in significantly reducing maternal mortality in the nation.
– Sara Olk
Photo: Flickr
https://borgenproject.org/wp-content/uploads/logo.jpg
0
0
Kim Thelwell
https://borgenproject.org/wp-content/uploads/logo.jpg
Kim Thelwell
2019-06-17 01:30:47
2019-12-16 14:44:51
The Continued Fight to Improve Maternal Health in The Gambia