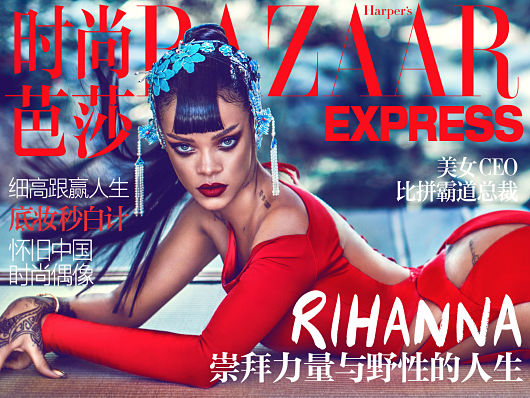 When you hear about Fashion Magazine, you probably think of gorgeous ladies and gentlemen in luxury attires who have nothing to do with poverty. However, Harper's Bazaar China has started "BAZAAR Stars' Charity Night" and has proposed to "let the charity become a kind of fashion."
Hosted by Harper's Bazaar China, a famous international fashion magazine, BAZAAR Stars' Charity Gala is an annual fundraising gala for Chinese celebrities who support charities. It collects money through an auction and the funding is used for charities that support causes for impoverished children, medical aids, disaster recovery and many others.
In 2003, a year when SARS spread in mainland China, BAZAAR Stars' Charity Night was established due to the social responsibility of journalists in Harper's Bazaar China. With the whole society threatened by an incurable disease, fashion journalists felt powerless in helping by merely advertising luxurious lifestyles and beautiful attire. Thus, under the suggestion from a famous Chinese singer, Na Ying, the journalists in Harper's Bazaar China started fundraising through auctioning used items owned by celebrities to financially support people in need.
Through live telecast, the charity event has gained a lot of attention. Singers and dancers voluntarily perform at the event and movie stars dress up in glamorous outfits. The event is a good opportunity to advertise charity.
The first session of the gala collected 168,000 RMB, which made a hit in Chinese society. Thus Harper's Bazaar China decided to maintain this program and try to develop it into a more influential social and charitable event. In 2004, the team came up with the idea to "let charity become a fashion" and encourage Chinese stars to support charities.
In 2012, the tenth anniversary of the charity night was held in Beijing. More than 600 entrepreneurs and stars such as famous actress Zhang Ziyi, martial arts star Jackie Chan, pianist Lang Lang and popular singer Jay Chou attended the charity event. During the auction, a painting by famous contemporary Chinese artist Zeng Fanzhi was sold for 17 million yuan, the highest price of the night. Participants who didn't auction any items were also encouraged to donate 100,000 yuan. The event raised a total of $6.3 million.
According to the organizers of this event, all the funding raised in 2012 was donated to several projects for poverty alleviation, medical aid for children and craniofacial cleft lip and palate treatment. In 2013, funds were donated to the China Foundation for Poverty Alleviation and the Zhonghua Siyuan project to financially support the economic development of poverty-stricken areas in China.
In an interview, the Editor-in-Chief of Harper's Bazaar China, Su Mang, said, "People usually think Fashion has nothing to do with charity. Sometimes they regard charity merely as our strategy to gain attention, but I want to say that, if behind the glamorous dresses, there is a true willingness to help others, we should also applaud for them."
– Shengyu Wang
https://borgenproject.org/wp-content/uploads/logo.jpg
0
0
Borgen Project
https://borgenproject.org/wp-content/uploads/logo.jpg
Borgen Project
2015-08-23 09:51:38
2020-04-17 16:56:12
Harper's Bazaar China Hosts Fashion Charity Event