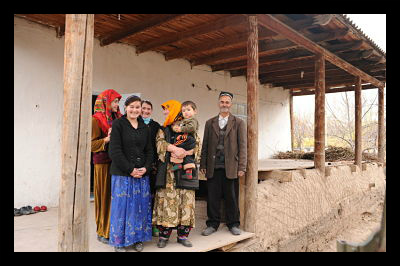 On January 2, 2010, a devastating earthquake hit the mountainous country of Tajikistan. Seven thousand people were affected by this natural disaster. The Office for the Coordination of Humanitarian Affairs (OCHA) reported that 20 villages in the Vanj district in the eastern Gorno-Badakhshan region were badly damaged. Estimates suggest that more than 140 houses were destroyed and 950 were left partially damaged.
Urgent Need for a Change
Nancy Snauwaert, a humanitarian coordination officer in the office of the U.N. Resident Coordinator in Vanj reported that, "There is an urgent need for the total reconstruction of houses. Technical guidance is crucial as over 1,000 houses have been damaged and are in need of becoming earthquake resistant."
Currently, buildings are being constructed using concrete reinforced with steel rebar. Unfortunately, 50 percent of the country lives on less than $2 a day and rebar is financially out of the reach for many of the families residing in this earthquake-prone area.
Sustainable Housing Technology
Starting in 2008 Habitat for Humanity Tajikistan and the Tajik Institute of Seismology began to research alternate means of creating an inexpensive and sustainable house-reinforcing technology. The design created won them the FedEx Award for Innovations in Disaster Preparedness in 2013.
The design has been coined as "Sinj-technology." Mulberry trees are cut down seasonally to harvest silk cocoons. The twigs of the tree have no other purpose and are free to use. Researchers tied mulberry branches into grids. These grids are then attached to a structural wood frame in mud walls. The grid is plastered with a mix of mud, straw and wool. This design effectively makes the walls able to resist lateral forces.
Preliminary Tests have proven that mulberry grids provide tensile strength equivalent to 80 percent of that of steel rebar. The first earthquake to test this new technology occurred in December of 2008 when the Rasht district was shaken by a 5.8 earthquake. Eighty homes in this region had been previously reinforced with Sinj-technology.
2009 Earthquake and its Effects
The next earthquake occurred in January 2009 when a 6.0 earthquake was felt in the Kumsangir district. Over one hundred homes were reinforced with Sinj-technology. A post-disaster survey found that none of the reinforced houses were damaged.
Another large advantage to this technology is that homes do not need to be rebuilt with the mulberry grids. The structures can be added to existing structures, saving homeowners as much as five times the expense of new construction. It is also 30 percent cheaper to use these materials than the standard techniques used in other seismically unstable regions.
Since receiving the FedEx Innovation Award, Habitat for Humanity Tajikistan has reinvested the money into proof of concept in an effort to create a new business strategy for Sinj-technology. Their intention is to pair this technology with local training of masons and construction workers. This would also effectively provide opportunities for affordable financing of home retrofits through microloans.
This comes as promising news for the 70% of people living in Tajikistan's rural communities. The materials for earthquake disaster mitigation is easily accessible since it is produced by trees. The communities are now learning the trade in order to create a more sustainable future.
– Frederick Wood II
Sources: Interaction, Habitat 1, Irin News, Habitat 2
Photo: Habitat for Humanity
https://borgenproject.org/wp-content/uploads/logo.jpg
0
0
Borgen Project
https://borgenproject.org/wp-content/uploads/logo.jpg
Borgen Project
2014-10-25 12:00:09
2020-08-21 21:10:17
Tajikistan's Innovative Buildings