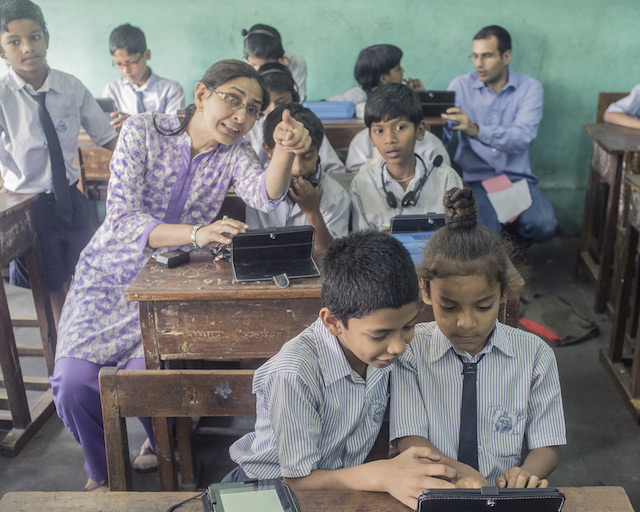 Poor infrastructure contributes to the fact that one in five children around the world lacks access to quality basic education. In general, supporting basic education in specific regions requires a massive increase in basic infrastructure, teaching staff and educational supplies. In Turkey, the gap between the demand for education funding for Syrian refugee children and the actual amount received reached 43 percent. Due to conflict in the region, 70 percent of children are out of school. With so much content created and shared online, the internet now is a reservoir of knowledge. These unconventional education providers are trying to bring education to struggling areas through technology.
Unconventional Education Providers
Internet companies dominate online resources and access. Companies such as Microsoft and Google frequently cooperate with non-profit organizations for philanthropic purposes. The primary goal for many of these organizations is to offer accessible education through innovative solutions. Google, for example, made a five-year, $1 billion commitment to improve access to education through partnerships. In particular, Google contributed $5 million to Learning Equality and its offline educational platform Kolibri as a way to promote an innovative way of providing primary education.
Funded by Google, Kolibri is a free education solution that includes both device and content for users who have limited internet access. Content like KA Lite has been installed in 200 countries and reached 4.5 million learners. Besides the widely spreading installations, training personnel in these regions is another major objective for this unconventional education provider. Kolibri project inspired the implementation of a similar platform in Jordan where 10 learning hubs trained 40 Syrian refugees to be Kolibri coaches or coordinators within 10 days.
Artificial Intelligence
Artificial intelligence provides internet companies with a distinct method in their mission to reduce poverty. In 2018, Microsoft initiated AI for Humanitarian Action, a five-year program funded with $40 million that applies artificial intelligence in poverty-related issues. Artificial intelligence can help NGOs in disaster response, childcare and education, the livelihoods of refugees and human rights.
Companies are working on ways to make AI even more efficient. In many impoverished areas, there is a shortage of qualified teachers. As AI continues to develop and improve, it will be able to perform more complex grading tasks. Companies are already working on translation software to offer more content to children in a variety of languages.
Women in Coding
Women suffer from gender inequality all around the world, but more so in impoverished regions. One of the ways to combat this is through acquiring an education. Some unconventional education providers are giving these women a way out of poverty through learning how to code. The nonprofit STEMbees is giving women and girls in Africa the chance to learn to code. In Lagos, Nairobi and Kampala, women engineers make up 30 percent of their total employment.
In short, via funding or technological support to other non-profit organizations, internet companies have become unconventional education providers. The technology they are developing gives impoverished people access to more knowledge at a lower cost. With so many connected online, it may be a good time to start thinking about how to use the internet to help to fight poverty.
– Dingnan Zhang
Photo: Prlog.org
https://borgenproject.org/wp-content/uploads/logo.jpg
0
0
Kim Thelwell
https://borgenproject.org/wp-content/uploads/logo.jpg
Kim Thelwell
2020-02-12 01:30:52
2020-02-06 15:24:21
Unconventional Education Providers