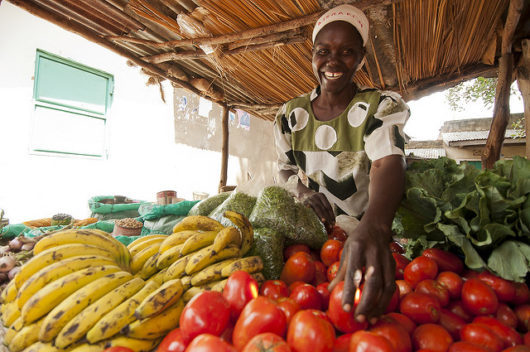 Hunger is an issue that affects more than 800 million people worldwide. It can lead to malnutrition, which in turn can lead to a number of health issues and chronic diseases.
In addition to the hard work of advocacy groups and other nonprofits, recording artists like Beyonce and Jay-Z hold and perform at benefit concerts to bring awareness to global issues like poverty and hunger, and raise money for relief efforts. Not only do artists hold benefit concerts for these issues, but they also sing about them.
Top 5 Songs About Hunger
"Is This The World We Created?" by Queen
Just look at all those hungry mouths we have to feed
Take a look at all the suffering we breed
So many lonely faces scattered all around
Searching for what they need
This song kicks off the list of the Top 5 Songs About Hunger because it directly talks about the hunger and suffering going on in the world, and singer Freddy Mercury begs the question, "is this the world we created?" suggesting that these issues are manmade and preventable. One of the ways that the band Queen helped bring relief to world hunger was through Live Aid. This benefit concert was organized by Irish rock singer, Bob Geldof. Many different artists and bands came together to put on this concert and were able to raise over $125 million for famine relief in Africa.
"Another Day In Paradise" by Phil Collins
She calls out to the man on the street
He can see she's been crying
She's got blisters on the soles of her feet
She can't walk but she's trying
Oh think twice, it's another day for
You and me in paradise
This song brings attention to homelessness and singer Phil Collins tells the listener to be grateful for what they have because they are in paradise compared to the woman on the street. The global organization, Action Against Hunger, utilizes the donations of those who can provide (arguably, those that live in 'paradise') to help those in need. Their focus is hunger relief. So far, this organization has had a lifesaving impact on over 45 countries and helped over 20 million people.
"Them Belly Full" by Bob Marley
Them belly full, but we hungry
A hungry mob is a angry mob
A rain will fall, but the dirt it tough
A pot a cook but the food nah nuff
The third song to make it onto the Top 5 Songs About Hunger, "Them Belly Full" by Bob Marley calls attention to the fact that in some countries, the government is corrupt and neglects their people, leaving them poor and hungry. When he says, "them belly full" he is referring to the government and the "we" in "but we hungry" are the people of Jamaica.
Other governments have taken to weaponizing aid. Take for instance the Syrian regime, which withholds humanitarian access to basic necessities like food in order to "weaken opposition groups and to prevent the creation of an alternative political order." Still, many organizations continue to work hard to reach those in need. One such organization is Relief International, which provides aid to the refugees that cross the border into Turkey.
"In The Ghetto" by Elvis Presley
Well the world turns
And a hungry little boy with a runny nose
Plays in the street as the cold wind blows
In the ghetto
The lyrics throughout this song tell the story of a boy growing up in the ghetto and emphasize how hard life is for those living in poorer areas. Singer Elvis Presley also calls out the fact that people often turn a blind eye to those impacted by poverty. Presley used his fame as a platform to help normalize polio vaccinations in the 1950s. Today, the disease has been eradicated in all but two countries, Afghanistan and Pakistan, two impoverished countries, who are working hard to completely wipe out this disease.
"Beans For Breakfast" by Johnny Cash
Caught a cold with the window open
Crow droppings o my window sill
Probably got histoplasmosis
… Beans for breakfast once again
Hard to eat them from the can
Plastic forks are a dime a dozen
I'm a hungry nasty lonesome man
Histoplasmosis, a fungal disease that affects the lungs and causes skin lesions, most commonly impacts those with HIV/AIDS or others with compromised immune systems. In Africa, it is most prevalent in the central and western parts. Treatment options include anti-fungal medications such as Amphotericin B or Oral Itraconazole.  The organization LIFE aims to improve fungal infection case outcomes through advocacy and educating public health and medical professionals so that may be able to spot these diseases and effectively treat the patients.
World hunger is an issue that can never get enough advocacy. Through the combined efforts of many people, ranging from politicians to everyday people, including the artists who made it on to the Top 5 Songs About Hunger, it is an issue that is steadily gaining more awareness. In the year 2000, about 900 million people were chronically malnourished, but as of 2018, that number is down to 821 million people. The fight against hunger has proved to be one that takes time and resilience, but with many organizations, including the ones listed here whose mission is to downsize global hunger, it is a fight that can be won.
– CJ Sternfels
https://borgenproject.org/wp-content/uploads/logo.jpg
0
0
Kim Thelwell
https://borgenproject.org/wp-content/uploads/logo.jpg
Kim Thelwell
2019-01-29 12:22:15
2019-12-11 14:07:41
Top 5 Songs About Hunger