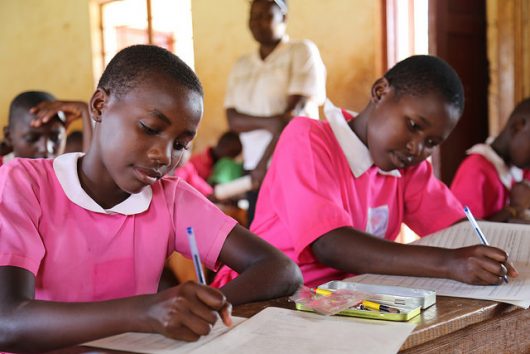 Girls' education in Uganda is not a priority for the leaders of this East African country. Because of the huge gender gap and the perpetuated stereotypes of women and girls working in the home, their education does not take precedence. Instead, boys' education is what is at the top of schools' minds. In Uganda alone, more than 700,000 children between the ages of 6 and 12 have never attended school. Despite these facts, a handful of organizations are helping girls in Uganda get the education they need.
Organizations Improving Girls' Education in Uganda
Global Partnership for Education
This organization granted Uganda $100 million to improve its education system and so far, the results are exceptional. Since this money was granted, more than 18,000 teachers have been trained in early grade reading in English and in local languages, teachers and committees have been trained in more than 900 schools, and as of January 2018, there are more than 550,000 direct project beneficiaries. These results will directly impact girls in Uganda because a more proficient school system will be able to support more children and give them the education they need. The education sector of Uganda has the goal of increasing the participation, performance and progress of women and girls in the education system. Hopefully, with the help of the Global Partnership for Education, this goal will be achieved in abundance.
United Nations Girls' Education Initiative
UNGEI has implemented several strategies in order to improve girls' education in Uganda. Since UNGEI partnerships have begun working in Uganda, the process for developing messages for the national gender parity campaign has begun, female role models for empowering girls have been promoted and support for young people is being led by this initiative in its program for community outreach to find out-of-school children. This organization will encourage girls to take a greater interest in completing their education. Through this work, girls' education will hopefully become more of a priority for everyone in Uganda.
Girl Up Initiative Uganda
This organization has a number of programs to empower young girls to participate more in their communities, one of them being the Adolescent Girls Training Program. This program is conducted inside the local Uganda schools and it focuses on building young girls' aptitudes for individual empowerment and social survival. Girl Up confronts gender inequality to help young girls to advocate for themselves and to build their self-esteem. This organization allows girls to feel empowered and not as if the world is run solely by boys and men. This program provides girls with critical thinking skills and gives them the tools to deal with unfair realities in their daily lives. By doing so, this initiative is forging the next generation of confident women who will someday become leaders in their country. Girl Up addresses areas of education that are missing from young girls' everyday lives and schooling. A couple of the areas that this organization covers are self-esteem and body image, violence against women and children, children's rights and leadership skills. This program provides girls with the tools to be a leader within their school and their community as a whole.
If the Protecting Girls' Access to Education in Vulnerable Settings Act is passed through the Senate and is signed by the president, these organizations will benefit immensely. This act will prioritize efforts to support access to primary and secondary education for displaced children, mainly focusing on including women and girls in foreign assistance programs. This is the main purpose for all three of these organizations and this act will allow this goal to cover more ground as well as being achieved much faster. This act will give girls' education in Uganda a huge boost, as well as all impoverished countries in which girls' education is not a priority.
– Megan Maxwell
Photo: Flickr
To find out more about the past successes of our advocacy work and our current legislative priorities in Congress, head over to our Legislation page.
https://borgenproject.org/wp-content/uploads/logo.jpg
0
0
Borgen Project
https://borgenproject.org/wp-content/uploads/logo.jpg
Borgen Project
2018-08-29 07:30:24
2019-08-15 09:46:00
Three Organizations Helping Girls' Education In Uganda