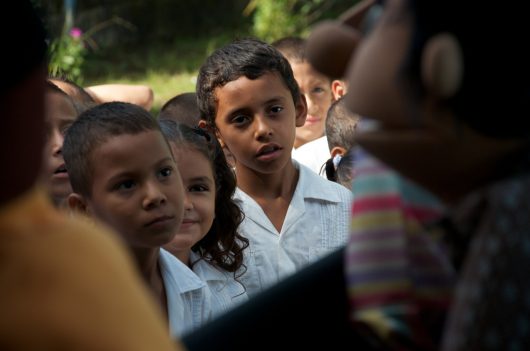 Honduras ranks poorly in terms of education among its counterparts in Latin American and the Caribbean. Currently for education to the children of Honduras, the country spends the highest percentage of its gross domestic product (GDP) on education of all countries in the region but has the second-lowest test scores. Huffington Post notes that in many classrooms, girls and boys alike sit on dirt floors with no blackboards, no desks, no electricity and latrines that serve as unisex bathrooms.
The Foundation for Education in Honduras, or FEIH, is a charitable organization committed to giving education to the children of Honduras. "The first step in restoring hope in Honduras is to invest in the children's futures and livelihoods… Non-governmental organizations (NGOs), along with charitable foundations whose efforts are dedicated to improving the state of education, are slowly but surely promoting the necessary changes to make social transformations a reality," writes Gina Kawas, FEIH's director of Corporate Relations.
Although the Honduran Constitution formally specifies that minors must have their education taken care of, many enter adulthood without knowing how to read or write at all. Lack of public resources and the extreme poverty that encompasses Honduras is much to blame.
In order to change the status quo, the organization partners directly with local Honduran businesses and groups to renovate rural school buildings and provide school supplies to the children and teachers. In addition, FEIH aims to engage the school in cross-cultural activities in order to foster positive educational outcomes in the community.
More often than not, the necessity of increasing the family earnings forces many Honduran children to leave school for work, usually permanently. FEIH's approach to this predicament is simple and extremely effective. The organization invests all the money it raises into school construction and educational programs. It helps to build sustainable, community-owned education projects, thereby giving education to the children of Honduras.
FEIH requires 20-25% of local labor building these schools to be volunteered by members of the community where the school is being built. This cultivates potential job opportunities to members of the community while simultaneously providing new schools for the communities' children.
If Honduras is to prosper and provide its children with the education they deserve, it must realize and address how significant the relationship between increased time spent in school and a reduction in criminal activity truly is. Marked as the "most violent country in the world" by the U.N. back in 2012, Honduras needs to place focus on its younger generations and invest in their futures. FEIH is slowly helping the country tackle one of it's biggest issues at its root one school at a time.
– Keaton McCalla
Photo: Flickr
https://borgenproject.org/wp-content/uploads/logo.jpg
0
0
Borgen Project
https://borgenproject.org/wp-content/uploads/logo.jpg
Borgen Project
2016-11-01 01:30:16
2020-06-02 16:44:53
FEIH: Giving Education to the Children of Honduras