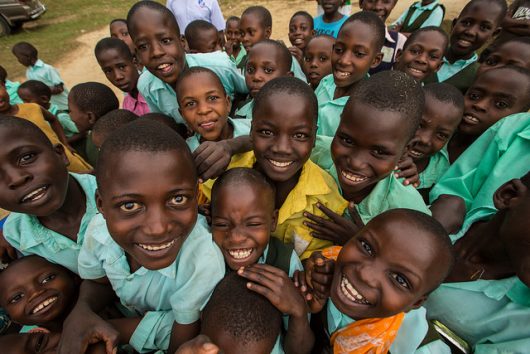 Renewable energy in Africa has made great strides in recent years—but, as the poet John Donne once wrote, "No man is an island entire of itself." Building the infrastructure for green energy is an international project, generally reliant on international conglomerates with wide-ranging, specific technical knowledge and the funds to move large projects forward.
According to the International Energy Agency, Chinese firms were responsible for 30 percent of the utility power-generation capacity built in sub-Saharan Africa between 2010 and 2015, and 56 percent of the capacity they have built (or will build) this decade comes from renewable sources, including wind and hydroelectric power.
Still, Africa's utility-scale energy infrastructure is notoriously underdeveloped, which means localities and individual consumers often opt for smaller, more independent means of generating energy and their associated programs.
GET FiT Uganda is one such program. Its goal is to increase the country's energy production by 20 percent by stimulating private investment in smaller green energy projects. The program draws funding from the Norwegian, German, and United Kingdom governments as well as the EU-Africa Infrastructure Trust Fund. It culminated in late 2016 with the unveiling of the 10-megawatt solar power plant in Soroti, capable of powering 40,000 homes, businesses and schools in the town and surrounding district.
The plant's operations manager, Phillip Karumuna, has said of the plant, "The abundance of the solar resource in Eastern Uganda makes it perfect for solar power generation. The sun shines throughout most of the day, there isn't too much rain here, and this means the plant will produce lots of power for years to come."
The new plant means the district will enjoy access to computers and the Internet, and activities like cooking will no longer be relegated to the dim light of lanterns. Achom Naomi, director of a local nursery and primary school, says that once the schools gain access to power, more students will enroll and school standards will improve—a result of access to light for reading and homework at night.
The Soroti solar plant—the largest of its kind in East Africa—follows the launch of a power plant in Kakira in 2015, and a third plant will be coming to Tororo. All three plants were funded through GET FiT.
The situation in Uganda is a snapshot of what renewable energy in Africa is achieving—and can achieve—on the continent itself and across the developing world. And the United States should not be content to let China and Europe dominate the investment sphere. By ramping up spending on renewable energy in Africa and other developing nations, America stands to build instrumental alliances and partnerships in trade and for national and global security.
– Chuck Hasenauer
Photo: Flickr
https://borgenproject.org/wp-content/uploads/logo.jpg
0
0
Borgen Project
https://borgenproject.org/wp-content/uploads/logo.jpg
Borgen Project
2017-10-22 01:30:40
2020-03-05 09:12:36
Renewable Energy in Africa: Uganda's Success