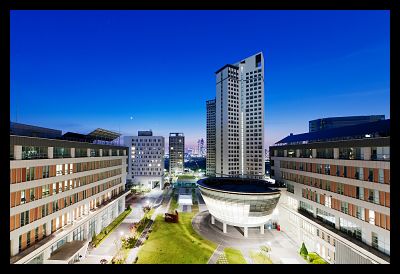 On March 3, 2012, South Korea founded its first American university with a goal to bring degree programs to international universities in hopes of fostering global leaders.
Now, two years later, the school has exceeded expectations, attracting students from 20 countries around the world, including China, Iran, Kenya, Ghana and Uzbekistan.
The State University of New York (SUNY) Korea is one of the campuses of Stony Brook University to open at the Incheon Global Campus (IGC), followed by George Mason University Korea, University of Utah Asia Campus and Ghent University Global Campus. Universities at the IGC are "extended campuses" of universities that are part of a global hub that fosters an atmosphere of industry-university-research cooperation and East-West intellectual and cultural exchange.
At SUNY Korea, students are offered degree programs comparable to prestigious schools in the U.S. where they can enjoy the American education while still being engaged in dynamic Korean culture. In spring 2013, the school saw its first undergraduate class of 38. This fall, the undergraduate enrollment is 133 students.
Still new in development, there's not much to base statistics off on in order to tell what the graduation rate might be for undergraduates, masters and Ph.D. students. In fact, no undergraduate students have received their diplomas yet; however, this is expected to change in 2016. As the top educational hub in North East Asia, the IGC hosts universities and research institutions in hopes of fostering a diverse population of students from around the globe to become leaders in their fields.
Though SUNY Korea follows that same mission, students can only get degrees in computer science, mechanical engineering and technology systems management. Graduate students, however, can move forward by advancing their fields toward robotics or computational fluid dynamics.
This is not the only difference students are presented with when it comes to a unique university structure. Rather than taking a mix of major requirements and DECs each semester, students may only take major-related courses during their freshman, junior and senior years. However, as sophomores, students are required to spend the year at the Stony Brook campus where they can take a combination of both DECs and major courses.
SUNY Korea is expected to see the Fashion Institute of Technology that will serve as their art program. There's also a possibility of opening a business program for students down the road, but that is yet to be confirmed.
Since its launch two years ago, SUNY Korea has been able to reach students across the world to foster a technology-driven global hub that brings a whole new level to global education and interconnectedness. As of October 2014, the school has a total population of 230 students, over 30 percent of them international. By 2021, they hope to increase that number to 2,000 students.
With more expansion, SUNY Korea will fulfill their mission in becoming a pioneer of a new global education paradigm without borders.
– Chelsee Yee
Sources: SB Statesman, Korea Herald, SUNY Korea, Scholarship SUNY
Photo: Asia Pacific Regional IGF
https://borgenproject.org/wp-content/uploads/logo.jpg
0
0
Borgen Project
https://borgenproject.org/wp-content/uploads/logo.jpg
Borgen Project
2014-12-05 04:00:07
2020-07-18 04:46:26
SUNY Korea Fosters Global Education