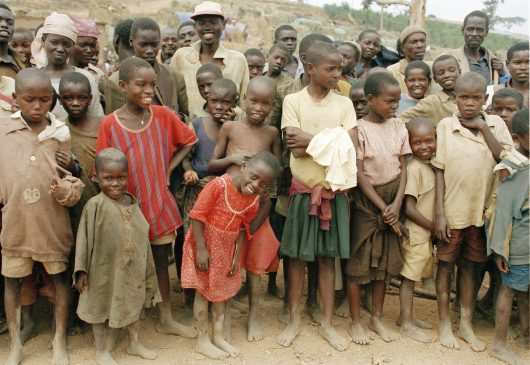 In spite of the 1994 genocide in Rwanda in which one million people were executed, the Rwandan community rallied to form an inclusive government, promote cultural acceptance and achieve economic prosperity.
As a product of colonial policy, the Rwandan government was constructed to advantage the minority (Tutsi) over the majority (Hutu) population. Disparities among the Rwandan population gave rise to the Rwandan Patriotic Front (RPF) that was a catalyst for the Rwandan Civil War in the early 1990s.
On April 6, 1994, the Rwandan civil war escalated when the Presidents of Rwanda and Burundi died in a plane crash that the Radio Television Livres Des Mille Collines (RTLM) attributed to the RPF. Following the crash, several weeks of incommensurate fighting ensued between the Hutu lead Gendarmerie (paramilitary) and military forces against the RPF and Tutsi citizens. Meanwhile, the international community withdrew and was absent during the peak of the genocide in Rwanda.
During the final weeks of summer, the RPF gained territory and Hutu soldiers fled to the DRC, bringing with it the fragile process of recovery.
Fortunately, the Rwandan people were exceptionally apt at a post-conflict building. The first step after the genocide in Rwanda, for the Rwandan people, was to ensure internal security, primarily executed through the criminal justice system, which was filled with nearly two million people.
The Rwandan national government, led by Paul Kugame, dealt with the prosecution of those who were alleged contributors to the genocide in Rwanda or perpetrators of rape. The remainder of suspects were subject to the newly created justice system, the Gacaca. The participatory system, run by citizens, was the crux of building a long-lasting trust among all segments of society.
Once internal security was reached, the Rwandan government focused on humanitarian relief. Five years afterward, Rwanda transformed its society into a beacon of hope and prosperity. Eliminating child mortality by 50 percent, near universal health care, increased freedom of expression and economic expansion of eight percent without the revenue from natural resources was primarily completed because of the direction of the Government and collect efforts of a Rwandan identity, rather than Hutu or Tutsi.
Although the rapid transformation was the product of national efforts, the role of international aid cannot be overstated. The United Kingdom's Department for International Development (DFID), along with World Bank, and International Monetary Fund account for the bulk of international donations.
The international community has demonstrated it is observant and eager to grow as it has made earnest efforts to increase foreign aid to developing countries. Post-genocide in Rwanda is evidence of how international aid can be the missing component to eradicating barriers to development. In the words of former British Prime Minister Tony Blair "and at a time when many in western nations are questioning the use of aid budgets, we should look at Rwanda as an example of how to use aid well".
– Adam George
Photo: Flickr
https://borgenproject.org/wp-content/uploads/The_Borgen_Project_Logo_small.jpg
0
0
Clint Borgen
https://borgenproject.org/wp-content/uploads/The_Borgen_Project_Logo_small.jpg
Clint Borgen
2016-12-23 01:30:57
2020-05-20 09:48:47
Life After Genocide in Rwanda