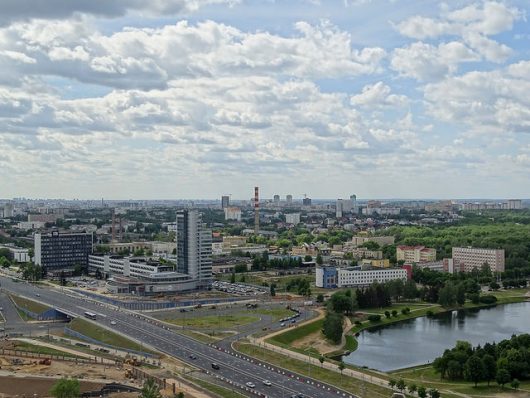 The Republic of Belarus is an Eastern European nation that boasts a free and universal education system, required for ages 6-14. Belarusian youth attend primary school from ages 6-9 and secondary school from 10-14, most remaining an additional 1.4 years until graduation. In Belarus, education is as accessible to girls as it is to boys.
Gender Discrimination in Society
Despite its accessibility, girls' education in Belarus does not guarantee that girls will have the same opportunities as boys in adulthood. In 2016, the National Statistics Committee of the Republic of Belarus reported that women earned only 76.2 percent of the salary of men. In addition, many of the nation's most profitable professions, namely in manufacturing, experience horizontal segregation with a majority of leadership positions being held by men regardless of female employees' qualifications. This encourages high-skilled women to enter into low-wage public service jobs like education and health care, which are occupied almost exclusively by women.
The Anti-Discrimination Centre (ADC) and the Office for European Expertise and Communications (OEEC) attribute gender discrimination in Belarus to traditional, patriarchal notions that are ubiquitous throughout Belarusian society. These notions portray childbirth and motherhood as women's greatest value and devalue the importance of their professional success.
The media, aspects of the compulsory education system, politicians and other government officials all contribute to the perpetuation of gender stereotypes. In a 2014 analysis, the OEEC describes the media in Belarus as "gender non-sensitive" and lacks an understanding of ideas concerning gender issues that they put out into their society. The ADC echoed these concerns in its 2016 report, pointing out that media outlets often refuse to acknowledge misbehavior when criticized for producing gender-biased content.
Gender Discrimination in Education
Belarusian schools, private and public, are at the will of the state and considered political bodies. The Education Code of the Republic of Belarus requires instruction in "the role and purpose of men and women in contemporary society." Boys and girls attend separate classes to teach them their respective roles in society, reinforcing stereotypes rather than promoting individual development. Girls are instructed in matters of homemaking and boys are taught activities such as woodworking and carpentry.
In 2009, Deputy Education Minister Tatsiana Kavalyova highlighted the importance of ideology in schools, calling it "the backbone" of Belarusian education. According to Kavalyova, every educational institution in the country has an ideology department. As of 2009, the government has continued banning teachers and democratic activists in opposition to the government.
Government agencies have failed to enforce anti-discrimination legislation despite having signed the United Nations Millennium Declaration, among other U.N. documents that commit the country to working toward gender equality. As of 2012, 68 percent of government officials and politicians in control of these policies are men.
The OEEC found in 2014 that 86.6 percent of the general public viewed women's lack of representation in politics as either the natural order of things or as a necessary consequence of their primary roles as wives and mothers. Some men in government have publicly expressed the same sentiment, claiming that "gender equality is perverting society," that women are "apolitical by nature" or that they should "sit at home and make borscht, not roam around squares." Yet, in the face of these challenges, there is promise that more progress will be made.
Hope for Girls' Education in Belarus
The data that the United Nations Educational, Scientific and Cultural Organization (UNESCO) has published paints girls' education in Belarus in a favorable light. In the organization's most recent statistics, Belarusian girls have consistently, if only slightly, come to surpass Belarusian boys in academia:
In 2015 and 2016, Belarusian girls had higher net enrollment rates in primary and secondary education. Rates for both girls and boys have steadily climbed from the low to high nineties since 2008, and the difference between boys and girls is less than one percentage point.
The 2015 transition rate from primary to secondary education was 0.34 percent higher for girls at 98.25 percent.
As of 2009, girls 15-24 years old have a 99.85 percent literacy rate, compared to the boys' rate of 99.8 percent.
In 2016, 6,747 girls and 7,654 boys were out of school. Although these numbers fluctuate, there have been more boys out of school each year since 2010.
According to ADC's 2016 report, 56.1 percent of women, compared to 43.9 percent of men, had a higher education.
With girls' education in Belarus set firmly in place, NGOs have been able to focus on gaining gender equality in other ways. These organizations are able to focus their efforts on both preventing domestic violence and human trafficking and helping victims. Their work has also led to the National Scientific Research Institute of Labor's development of a concept of gender equality and a gender assessment of current legislation by the National Center of Legislation and Legal Research.
One such NGO is Gender Perspectives, established in 2010. Gender Perspectives offers social, psychological and legal help to victims of domestic violence in Belarus, either directly or by referring them to other organizations and institutions. The organization created a hotline for victims in 2012, which responded to over four thousand calls in 2012 and 2013 and provided 117 with direct assistance.
In 2012, 54 women were selected for the National Assembly in 2012, which consists of 174 total delegates. Although they comprise only 32 percent and their admission was a result of a quota, women's presence in the government offers hope that the state, with the help of NGOs, will establish gender equality that reaches beyond the sphere of education.
– Ashley Wagner
Photo: Flickr
https://borgenproject.org/wp-content/uploads/logo.jpg
0
0
Kim Thelwell
https://borgenproject.org/wp-content/uploads/logo.jpg
Kim Thelwell
2018-09-16 01:30:37
2019-08-13 10:51:24
Girls' Education in Belarus: Equal Education is not Equal Opportunity