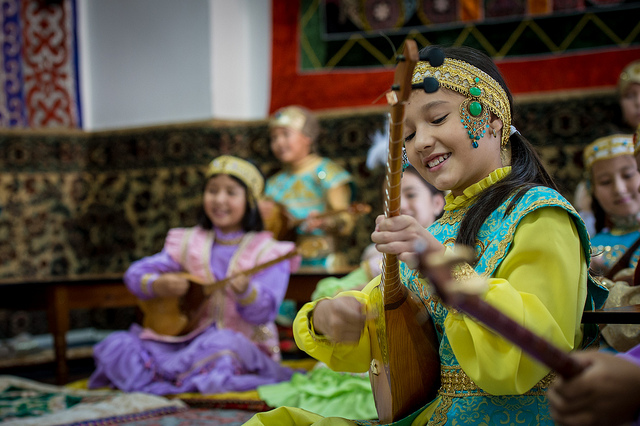 Kazakhstan is a land-locked Central Asian nation located to the south of Russia and to the northwest of China. Over two decades, they have transitioned from a lower-middle income country to an upper-middle income country. After 2015, Kazakhstan's poverty and unemployment decreased significantly as the trade and the oil industry improved. The government has also been expanding into other industries in order to improve the economy and move away from a reliance on oil production. One area Kazakhstan has been growing successfully is in diversification in education.
In Kazakhstan, primary school enrollment is almost universal. The school life expectancy for all children is 15 years. This achievement also includes girls' education in Kazakhstan. The net enrollment rate for girls in primary school is 99.9 percent, and the progression of girls from primary to secondary school hovers around 100 percent. In fact, educational attainment for women in Kazakhstan is greater than that for men.  In 2014, a study revealed that 28 percent of women went on to tertiary education as compared to 23 percent of men.
Difficulties with Girls' Education in Kazakhstan
Despite the achievements in girls' education in Kazakhstan, significant disparities begin to appear when looking at other factors.
Children who live in poverty or live in rural areas are less likely to move on to higher education and often receive an inadequate education due to unqualified teaching and outdated curricula.
There is also a high prevalence of early marriages for girls. Girls who are married young are unable to complete their education and are deprived of the qualifications necessary for their own employment and independence.
In the recent years, the rate of suicides among girls has begun to increase. The group most affected is young women in rural communities for reasons including early marriages, a lack of societal acceptance of reproductive rights, and pregnancy outside of marriage.
Recently, a ban on wearing religious symbols in school has had a strong impact on women as the majority of Kazakhstan practices Islam. Many people have protested the ban on religious wear in schools because girls would not be allowed to wear head-scarves. Some girls eventually stopped going to school because of this ban.
Inequality in the Benefits of Education
Though education in Kazakhstan is available to boys and girls equally, the benefits of their education are not. In 2015, it was recorded that only 66.1 percent of women participated in the labor market. This is 10.9 percentage points lower than male participation. That same year, the gross national income per capita based on the purchasing power parity of women was 16,264 international dollars, as compared to the male gross national income per capita at 28,226 international dollars.
Women also predominantly work in traditional areas like education and hospitality while men have greater participation in higher-paying job industries. A significant portion of women are self-employed or working in minor managerial jobs within larger businesses.
It is evident that there is a large gap between how girls participate in education and how their participation translates to opportunities after they enter the workforce.
A Brighter Future for Girls in Kazakhstan
Kazakhstan continues to move forward in providing equal opportunity for women through education. In 2009, a law was passed that establishes gender equality in many areas, including education. Beyond that, the government implemented a policy in 2016 geared towards decreasing discrimination through gender education. This is an attempt to teach children, both girls and boys, about gender stereotypes in order to end gender discrimination.
Nearly every child in Kazakhstan is able to receive an equal education, but educational reform continues to push for greater equality for girls so that they will have more opportunities in their future.
– Lindabeth Doby
Photo: Flickr
https://borgenproject.org/wp-content/uploads/logo.jpg
0
0
Borgen Project
https://borgenproject.org/wp-content/uploads/logo.jpg
Borgen Project
2018-07-06 19:24:49
2019-09-25 12:31:26
Girls' Education in Kazakhstan