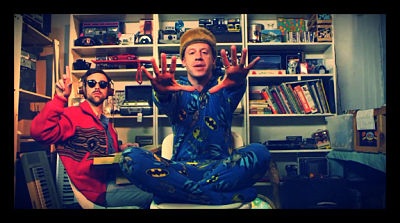 Macklemore & Ryan Lewis are a fairly new artist/producer group that has quickly risen to fame through their popular song, "Thrift Shop." Criticizing mainstream media, consumerism, and popular culture, this hip-hop group has a lot in common with the work being done at The Borgen Project. Raising these questions is essential to understanding not only the condition of the United States but also the state of the world.
Gaining considerable exposure within the music industry in the past year, Macklemore & Ryan Lewis have released their full-length album The Heist, hitting the number one spot on iTunes.
Macklemore & Ryan Lewis are proud to be from humble beginnings and proud to support the "alternative" lifestyle of anti-consumerism. Deciding not to sign with any record label, the group is completely independent and produces their own music with their own flare.
Thinking under the lens of global poverty, "Thrift Shop"  raises a number of ethical concerns. On one hand, Macklemore & Ryan Lewis are criticizing the United States culture of consumerism. A lyric from the song explains:
"They be like "Oh that Gucci, that's hella tight"
I'm like "Yo, that's fifty dollars for a t-shirt"
Limited edition, let's do some simple addition
…I call that getting tricked by business"
Here, the group brings attention to the arbitrary nature of clothing, calling out branding as a mere print on some cloth, and propose, throughout the rest of the song, that spending 99 cents on an otherwise expensive jacket is a much better option.
Alternatively, we look that the main hook of the song with a somewhat critical eye in relation to global (rather than only domestic) poverty:
"I'm gonna pop some tags
only got 20 dollars in my pocket
I'm, I'm I'm runnin', looking for a come up"
All humor aside, the group is bringing attention to the fact that $20 for clothes is considered insanely cheap in the United States. However, while American consumers think that they are being frugal, $20 is far more than most people in the world make in one year. That much money, in much of the world, could be used much more effectively to feed a family. However, while the monetary value is relative—what may be cheaper in the U.S. is expensive elsewhere—Macklemore & Ryan Lewis advocate for frugal living no matter what the exchange rate, leaving the quality of their beats far from impoverished.
– Kali Faulwetter
Sources: Rap Genius
Photo: MTV
https://borgenproject.org/wp-content/uploads/logo.jpg
0
0
Borgen Project
https://borgenproject.org/wp-content/uploads/logo.jpg
Borgen Project
2013-06-16 06:03:08
2020-06-29 03:11:32
Macklemore & Lewis Address Global Poverty