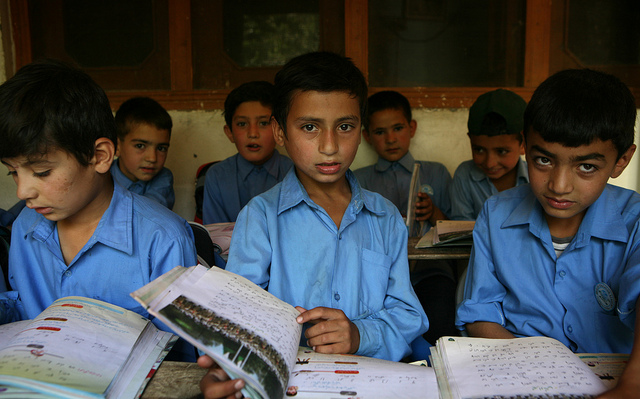 In Pakistan, every citizen has the right to freedom of expression. However, this is subject to restriction. Article 19 of the Constitution of the Islamic State of Pakistan (1974) explains:
"Every citizen shall have the right to freedom of speech and expression, and there shall be freedom of the press, subject to any reasonable restrictions imposed by law in the interest of the glory of Islam or the integrity, security or defense of Pakistan or any part thereof friendly relations with foreign States, public order, decency or morality, or in relation to contempt of court, [commission of] [sic] or incitement to an offence."
Censorship is an ongoing practice that often restricts freedom of expression in Pakistan. The 2017 Human Rights Watch World Report expressed concern for political influence by the Pakistani government on the media. Throughout 2016, media outlets were allegedly pressured to circumvent coverage on human rights violations. Terrorist regimes like the Taliban were also known to impact media outlets. According to the report, "many journalists increasingly practice self-censorship, fearing retribution from security forces."
Since the year 2000, 110 journalists have been killed in Pakistan, only four of which cases have led to convictions. Despite this fact, there are artists throughout the republic ignoring the fear and embracing their passion. Pakistani artists are exercising their right to free expression and challenging the unspoken but palpable restrictions on freedom of expression via their artwork.
Fouzia Saeed, head of Lok Virsa, a Pakistani culture and history museum just outside of Islamabad, explains to Journal & Courier that he sometimes receives death threats. Despite this, Saeed continues to educate the public and provide an outlet for freedom of expression in Pakistan, often hosting poetry and folk music night.
Asia's largest theater festival is an annual 11-day event hosted in Lahore, Pakistan. The World Performing Arts Festival, organized by Rafi Peerzada, is designed to reaffirm the democratic notions that Pakistan has been striving for since 2013.
The festival features some 90 performing groups. The event often evokes social commentaries, promotes dialogue and represents a celebration of local and global culture. This is an ambitious event that funding and support aren't exactly there for, as Peerzada laments to say. "We've never had a policy for culture," he says in response to the difficulty of fundraising. The program has never received government funding, and other sources are hesitant to associate their name with the festival, as it is considered "risky."
When the festival started in 2008, it found itself the target of an attack. Three bombs detonated as the event was reaching full capacity. Some were injured, but luckily no one was killed. "The arts are seen as un-Islamic," Peerzada explains in an interview with Christian Science Monitor.
Though artists, galleries, festivals and other forms of artistic expression are often targets of forced silence, this group collectively remains resilient.
"It feels like we are closer to that than a year ago, but we're certainly not close to being all the way there. What appears to be a country divided is not that divided at all — it is just scared," Peerzada says. In the transition to democracy and modernization, art plays a key role in strengthening freedom of expression in Pakistan.
– Sloan Bousselaire
Photo: Flickr
https://borgenproject.org/wp-content/uploads/logo.jpg
0
0
Borgen Project
https://borgenproject.org/wp-content/uploads/logo.jpg
Borgen Project
2017-11-28 12:15:25
2019-11-20 06:55:42
How Art is Enriching Freedom of Expression in Pakistan