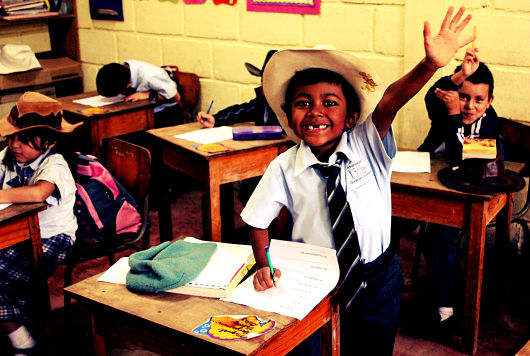 Globally, between 1999 and 2011, the total number of children not attending school decreased from 106 million to 57 million. Programs to encourage school attendance and improve the quality of education in developing countries are working.
Nevertheless, there is a country in Central America that retains the title of the second most impoverished nation in the Western Hemisphere. Honduras' children continue to face many barriers to education. There is still much work to be done.
Top 5 Barriers to Education Access in Honduras:
1. Lack of physical school buildings
2. Lack of school supplies (desks, chalkboards, clean water)
3. Shortage of adequate teachers
4. Gang epidemic pulls young boys from school
5. Lack of proper toilets and sanitation at schools dissuades young girls from attending school
The good news is that it is very possible to breakdown these barriers so that children may be able attend school.
Students Helping Honduras, a nonprofit organization that recruits college students to build schools, is addressing each of these barriers. The nonprofit was started by Shin Fujiyama when he was a college student, and he has since been named a 2009 CNN Hero. Their goal is to build 1,000 schools in Honduras by 2020. Over 3,000 college student volunteers have worked in Honduras and the program is expanding.
In addition to the schools under construction, the organization also currently runs a bilingual elementary school, 2 homes for orphaned and abandoned children, a scholarship project and a villa project.
One of the strongest barriers to education access in Honduras is related to the gang epidemic spreading throughout the country. Young boys are persuaded to join gangs such as MS13 or Mara 18 with the proposal of protection from older boys. When the prospects for their education seem low in the first place, some boys will not attend school at all.
SHH works with boys in the community of Villa Soleada and offers them the opportunity to gain an education. Villa Soleada serves as an alternative form of protection to gang life.
With a commitment to local empowerment, community members work together with student volunteers. SHH is building schools one at a time to help decrease the 66.2% of Hondurans who currently live in poverty. When these barriers are addressed, children can receive an education that will help them secure jobs and support their families and communities.
— Iliana Lang
Sources: Students Helping Honduras, Save the Children Care Plancanada
Photo: Project Trust
https://borgenproject.org/wp-content/uploads/logo.jpg
0
0
Borgen Project
https://borgenproject.org/wp-content/uploads/logo.jpg
Borgen Project
2015-06-15 09:59:07
2020-07-15 23:37:49
Top 5 Barriers to Education Access in Honduras