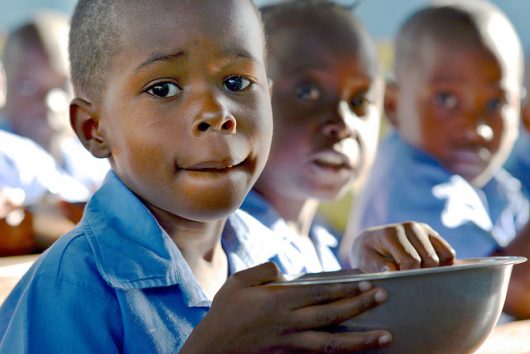 In September 2013, CARE, along with USAID, the Haitian Government, World Food Programme, Action Against Hunger and World Vision, implemented a program aimed at improving food security in Haiti. The initiative was named Kore Lavi, which means "supporting life" in Creole.
The goal of the program was to create a self-sustaining food market within the poorest regions of Haiti by 2017. Global partners agreed to step down after 2017 and allow the Haitian government full authority over the program.
Poverty in Haiti
Currently, 41.3 percent of Haiti's population is employed in agriculture, specifically in the rural regions of the country. Natural disasters have disproportionate effects on these rural farmers. An entire year of income can be lost if crops are destroyed by hurricanes or earthquakes.
World Bank reports that more than 59 percent of Haitians live below the national poverty line, and more than 24 percent live below the extreme poverty line.
The United Nations Development Program reports that poverty hits women particularly hard in Haiti since more than 40 percent of women are heads of households. Women provide about 90 percent of domestic care but do not receive financial compensation, training or support. Kore Lavi sought to address problems of gender equality by recognizing the power that women held in the development of their children's' lives and their families' prosperity.
Program Design
Implemented in 2013, Kore Lavi is a sustainable food market located in the rural regions of Haiti. Local farmers who participated in the program sold their crops and livestock internally within their communities, while beneficiaries of the program received vouchers to purchase these products.
This cycle promoted a healthy local economy that eventually became self-sustaining. It helped to directly address Haiti's reliance on food imports, which accounted for 50 percent of the population's food.
The program provided beneficiaries with two types of vouchers: paper and electronic. Paper vouchers were used to purchase local produce and meat, while electronic vouchers were used online for purchases of grains, rice and other staple foods.
Program Reach
Kore Lavi promoted food security in Haiti across the country by operating in more than 23 communities. Communities were chosen based on a variety of statistics, such as literacy rates and percentage of insecure food. In 2013, the program's inaugural year, approximately 110,000 households benefited from the program's social assistance.
As of 2017, Kore Lavi provided 205,000 households with maternal and child health interventions, while providing roughly 18,150 households with vouchers. The markets have grown to employ more than 700 vendors, with 358 of them being women.
Female Empowerment
Female empowerment was crucial to the program's success. Kore Lavi engaged female volunteers called Lead Mothers and offered them the opportunity to teach health training within and around rural communities. Lead Mothers traveled household-to-household discussing sensitive topics with fellow mothers, such as child nutrition and development.
Microfinance
Kore Lavi also identified microfinance as an additional means to improve food security in Haiti. For example, participating communities developed their own Village Savings and Loans Associations (VSLA). VSLA's provided members access to loans and personal savings accounts and maintained a central focus on serving women.
These aspects allowed women more financial independence and the means to take care of their family in times of crisis. In 2017, there were more than 25,000 members in 1,000 VSLA groups.
Successes
Great strides have been made in enabling vulnerable households in Haiti to feel a sense of security because of Kore Lavi. USAID reports in 2017 that Kore Lavi, over the four years of its existence, provided treatment and prevention methods to more than 83,000 children under the age of five suffering from malnutrition. Women are finding their own voice within their communities, and families can finally save for their future while having a sense of food security. 
As volunteers, like the Lead Mothers, continue to tell their story and help others, the social benefits for women will continue. As vendors continue to sell their produce locally and save their money, the hope is that increased food security in Haiti will continue. These cyclical changes have the power to continue "supporting life," or Kore Lavi, in the country of Haiti.
– Taylor Jennings
Photo: Flickr
https://borgenproject.org/wp-content/uploads/logo.jpg
0
0
Borgen Project
https://borgenproject.org/wp-content/uploads/logo.jpg
Borgen Project
2018-09-30 01:30:11
2019-07-19 08:06:18
Kore Lavi Provides Food Security in Haiti