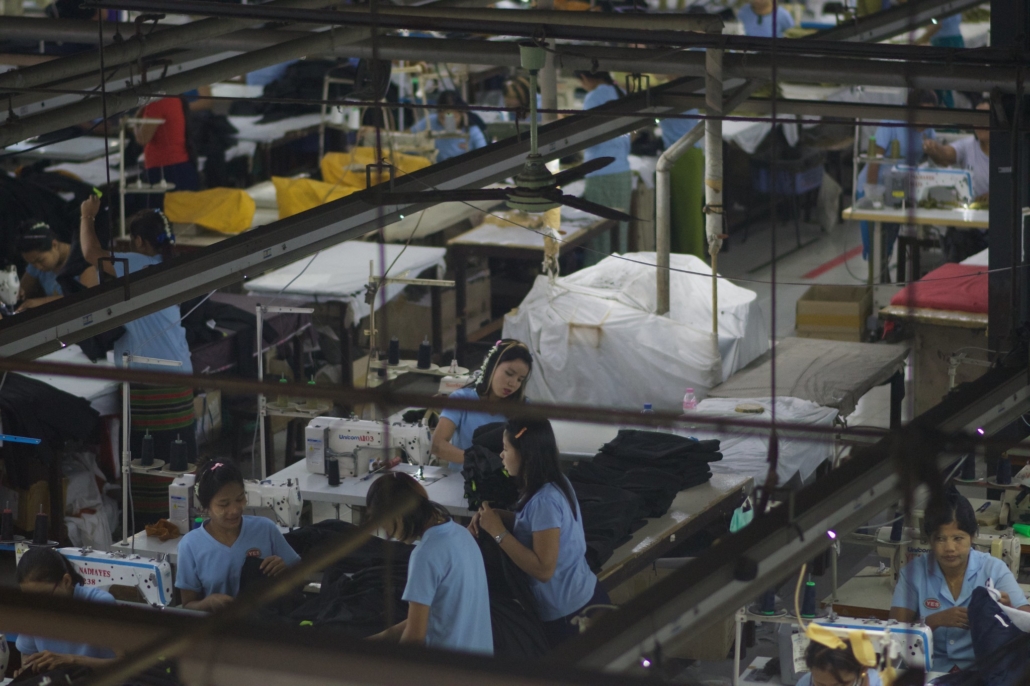 Ten months since the start of the global COVID-19 pandemic, discussions of the numerous economic harms that the lockdown proposed are practically rote. Still, this familiarity does not detract from the importance of addressing these harms, particularly the more vicious and damaging among them. These descriptors apply to the lives of predominantly female former garment workers in Myanmar. Unemployed and facing poverty, many of these workers feel that they have had to enter sex work due to their new circumstances, despite sex work in Myanmar now being riskier and less profitable than it was before the pandemic.
The Situation
At the start of 2020, many considered Myanmar a growing hotspot for apparel manufacturing. The country's cheap labor, numerous seaports and zero duty benefit on goods exported to the European Union have allowed its industry to follow in the footsteps of garment exporters like China, Vietnam and Bangladesh – garment exports have grown by almost $1 billion annually since 2015, totaling $4.37 billion in the first 11 months of FY 2018-19.
In the following months of lockdown, however, hundreds of thousands of garment workers experienced layoffs as 223 factories closed down. Reports from September 2020 claimed that the year's garment orders fell by 75%-80% compared to those received in 2019, in line with widespread cancellations filed early on in the pandemic. The result has been a sharp spike in the number of jobless women in Myanmar.
Amid this precarity, many have turned to sex work as a way of sustaining themselves. One interviewee reported to the Guardian that "Especially the girls who worked for factories that have closed during the pandemic… They have to pay their rent and debts and feed their families. They have no option."
About Sex Work in Myanmar
Besides being illegal, sex work in Myanmar has become more dangerous during the pandemic. Public spaces where workers previously found clients or conducted their business, like bars, massage parlors and hotels, are now largely closed under Myanmar's social distancing protocols. As a result, workers must place themselves in more compromising scenarios to find clients.
One sex worker, which the Myanmar Times interviewed in June 2020, reportedly "found herself with alcoholics and drug addicts," lacking the protection of her former "boss." "At times she thought she'd be abused… assaulted or even killed." Further, sex work brings workers into direct contact with people who may have COVID-19.
Sex work is also less profitable now. Where typical rates in Yangon rested between K15,000 and K30,000 before the pandemic, "many sex workers have reduced their prices to K5,000 during the COVID-19 outbreak." This is because of the large influx of workers, but also because of a drop in clients.
Shamed in mainstream society, sex workers in Myanmar lack access to local support networks that are typically present in other countries. Many commonly view prostitution as a form of punishment inflicted for wrongs committed in past lives. International NGOs and medical organizations are providing the brunt of public resources out there.
Solutions
In spite of these hardships, many of Myanmar's new sex workers feel that the precariousness of their former jobs forced them into their situation. Garment factory strikes in April and May 2020 met with government arrests and anti-union labor laws. Leaders of these protests spent months in prison, missing out on earning time that their families needed to make it through the lockdown.
As an issue with upstream causes, many former garment workers who are now carrying out sex work are facing domestic violence, police stings and jail time, social stigma, STIs and COVID-19. Food Not Bombs (Myanmar), a local branch of the global NGO which has operated since 2013, has made public commitments toward aiding sex workers. Since the start of the COVID-19 outbreak, Food Not Bombs (Myanmar) has distributed foods, such as rice, oil and eggs, to people whose livelihoods have been interrupted due to lockdowns, targeting sex workers, trishaw drivers, food vendors and the elderly in particular. It donates food every other Sunday at community events that occur at the Mandalay Community Center in Mandalay, Myanmar.
Food Not Bombs (Myanmar) has also partnered with Yangon urban redevelopment NGO Doh Eain to provide cash transfers for street workers who can no longer earn a living under lockdown. The hope with these initiatives is that consistent donations of food and money will help out-of-work women sustain themselves through the lockdown. Stable, alternative means of sustenance will help reduce sex work in Myanmar by offering women a third option besides going hungry and putting themselves in danger.
– Skye Jacobs
Photo: Flickr
https://borgenproject.org/wp-content/uploads/logo.jpg
0
0
Jennifer Philipp
https://borgenproject.org/wp-content/uploads/logo.jpg
Jennifer Philipp
2020-11-28 11:32:42
2021-08-18 12:42:45
Garment Factory Closings Drive Sex Work in Myanmar