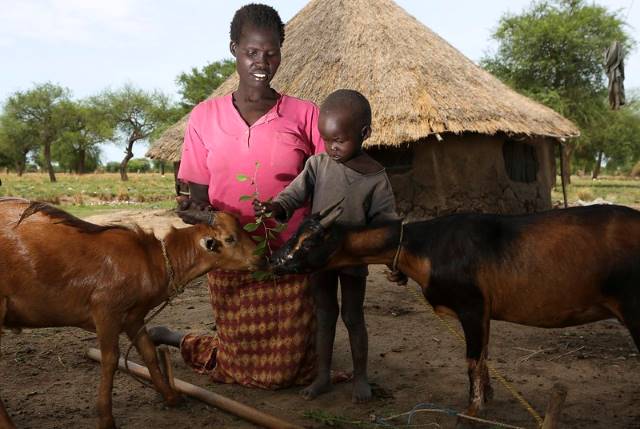 The North African country of South Sudan is currently facing its worst hunger crisis to date. Estimations indicate that close to 8.5 million people out of the nation's total population of 12 million people "will face severe hunger" in 2022, marking an 8% spike from 2021. There are several reasons for the worsening levels of food insecurity in South Sudan.
Issues Contributing to Food Insecurity in South Sudan
South Sudan's most recent civil war, beginning in December 2013 and ending in February 2020, is one of the many reasons for the major food insecurity in South Sudan, among other issues. According to Oxfam International, the war caused an "economic free–fall," leading to rising food prices and a crumbling economy. Furthermore, food stocks have diminished and harvests are poor due to extreme weather conditions.
The country is facing "the worst floods in 60 years," affecting close to 1 million people and serving as a significant contributor to food insecurity in South Sudan. In just seven months, from May 2021 to December 2021, about 800,000 South Sudanese people endured the impacts of "record flooding" within the country. The floods have not only destroyed lands where crops were growing but have also led to the loss of a quarter million "livestock in Jonglei state alone." The floods also swept away vital supplies such as fishing nets, impacting people relying on fishing in waterways as a means of securing food sources.
Along with the devastating floods, in 2021, the United Nations had to cut its food aid by about 50% due to reduced funding and increased costs of food. This reduction in the amount of food aid from the United Nations alone affects more than three million people.
Extreme Measures and Potential Collapse
To prevent starvation, families are resorting to extreme measures such as "ground-up water lilies" as their only meal of the day. Other people living in hunger have attempted to flee to other towns and states in search of food and shelter.
Further compounding the issue of food insecurity in South Sudan is "government deadlock as the country's two main political parties try to share power." Resistance among the political groups to work together is a cause of concern for the head of the United Nations mission in South Sudan, Nicholas Haysom, who warns of "a collapse in the country's peace deal" if parties cannot find common ground in the political arena.
The World Food Programme (WFP)
One of the organizations working to help end food insecurity in South Sudan is the WFP. The WFP is currently employing a variety of methods to get food to the millions of South Sudanese people enduring food insecurity. These methods "include airdrops, all-terrain vehicles, river barges and SCOPE registration."
The WFP utilizes airdrops as a last resort to deliver food to the most "dangerous and inaccessible" locations in South Sudan where safe road travel is not possible. The WFP also utilizes SHERPs, a type of all-terrain vehicle, to deliver food supplies to isolated areas where travel is challenging but still possible. The SHERPs can traverse the most adverse roads, go over obstacles and "float across water" in flooded areas.
The WFP also uses river barges that run along the Nile River to transport food to families who live in areas where there are no roads. Lastly, the WFP uses SCOPE, which is a blockchain service employed to "register and document people who receive food assistance" from the WFP. SCOPE helps workers to track the individuals receiving assistance and record each person's "nutrition and health status" and determine full recovery and treatment success.
Looking Ahead
Although the situation in South Sudan is dire and experts predict these circumstances will worsen, many organizations are committing to providing as much aid as possible to South Sudanese people facing the devastating impacts of several disasters. By supporting these organizations, even an ordinary individual can make a difference in reducing food insecurity in South Sudan.
– Julian Smith
Photo: Flickr
https://borgenproject.org/wp-content/uploads/logo.jpg
0
0
Saiesha
https://borgenproject.org/wp-content/uploads/logo.jpg
Saiesha
2022-01-25 04:03:20
2022-01-26 05:50:06
Rising Levels of Food Insecurity in South Sudan