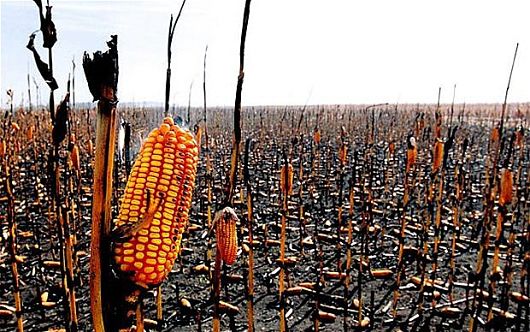 The number of devastating effects that global warming has on the Earth is already staggering. According to a new report, "increased food scarcity" is going to make that list a little longer.
The report, commissioned by the British government and carried out by the U.K.-U.S. Taskforce on Extreme Weather and Global Food System Resilience, warns of the effects that global climate change will have on the world's food supply.
"The chance of having a weather-related food shock is increasing, and the size of that shock is also increasing," said Tim Benton, a population ecology professor at Leeds University. "As these events become more frequent, the imperative for doing something about it becomes even greater."
The report analyzed the world's most prominent "commodity crops," those being maize, soy, wheat and rice, and how extreme weather conditions would impact their availability. Since the majority of those crops come from a small number of countries (the U.S., China and India, primarily), extreme weather could greatly impact their production.
Perhaps the most startling statistic featured in the report is that by 2040, the severity of crop failures once estimated to only occur once a century, will start happening every three decades.
"Action is urgently needed to understand risks better, to improve the resilience of the global food system to weather-related shocks and to mitigate their impact on people," Benton continued. "Governments and businesses need to prepare people for not being able to eat certain crops or products anymore."
– Alexander Jones
Sources: Business Insider, BBC, Science Magazine
Photo: The Telegraph
https://borgenproject.org/wp-content/uploads/logo.jpg
0
0
Borgen Project
https://borgenproject.org/wp-content/uploads/logo.jpg
Borgen Project
2015-08-23 01:30:48
2020-04-24 13:47:34
What Global Warming Means for Food Scarcity