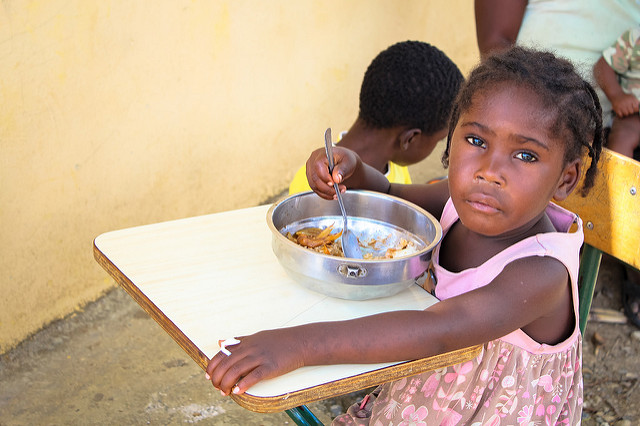 Natural disasters are causing food and water shortages in the Dominican Republic, but the non-profit organization SERV International brings dry food goods and water filters to provide citizens with the basic necessities they need after severe storms hit.
Natural Disasters Bring Food and Water Shortages
Between 1980 and 2008, 40 natural disasters have affected 2.65 million people in the Dominican Republic, according to the Global Facility for Disaster Reduction and Recovery.
Hurricane season for the Caribbean Islands lasts from June to November, according to the Global Facility for Disaster Reduction and Recovery. Hurricanes bring heavy rains and high winds that can cause damage to infrastructure and crops. Flash floods and landslides are common aftereffects of these destructive storms.
Because agricultural jobs employ more than a fifth of the citizens in the Dominican Republic, the devastation of crops due to natural disasters not only destroys food for people to eat but also causes a loss of jobs. One of their most valuable crops, sugarcane, is the most affected by natural disasters, according to The World Bank.
Hurricanes and other tropical storms can also destroy pipes and sewage systems, leaving behind water polluted by fecal matter, which is where cholera thrives. The CDC defines cholera as an infectious bacterial disease that is contracted from drinking contaminated water. Side effects of this disease are vomiting, diarrhea and possible death. As of June 18, there have already been 56 confirmed deaths from cholera in the Dominican Republic this year.
On the opposite side of the spectrum, prolonged droughts are also frequent hazards that can cause food and water shortages in the Dominican Republic. UNICEF warns that droughts make finding clean water difficult and could potentially lead to malnutrition.
What is SERV International doing to help?
SERV International is a Christian-based organization that sends missionaries to deliver food and clean water to underdeveloped countries all over the world.
Katie Kasha, who is the daughter of the founder and CEO of SERV, talked to The Borgen Project about her experiences in the Dominican Republic in 2014 and 2015 after Hurricane Sandy had hit the previous year. "It all starts with food," Kasha said. "As a result of going into communities and giving food, we have been able to build relationships and invest into those communities by planting wells and churches."
Kasha and the rest of the SERV team have brought food to a small village called San Jose as well as a few other small sugarcane villages. Kasha described the food as a dehydrated blend of lentils, soy protein, potatoes, carrots and other vegetables.
Rachel Chapman, a sophomore at Brenau University, accompanied Kasha and the other missionaries on both trips in order to address the food and water shortages in the Dominican Republic. "When we got to the village the thing that was very interesting to me was that the people there were afraid of the rain and rainwater because of the storms they had experienced," Chapman said. "I found it really ironic that water…the one thing needed to survive was the thing they were most scared of."
"The villagers drank from a stone trough about 8 foot long and 4 foot deep," according to Chapman. "There was a nasty lime green film covering the water and when you looked into the trough you could see the growth in the walls." SERV brought water filters in hopes of providing the villagers with clean water. Chapman added that one water filter will last a family in the Dominican Republic for five years.
Kasha and Chapman will both return to the Dominican Republic in the future to continue giving out food to families and treating filthy water for those that have been affected by destructive natural disasters.
– McKenzie Hamby
Photo: Flickr
https://borgenproject.org/wp-content/uploads/logo.jpg
0
0
Borgen Project
https://borgenproject.org/wp-content/uploads/logo.jpg
Borgen Project
2018-07-09 01:30:17
2019-09-25 12:11:06
Addressing Food and Water Shortages in the Dominican Republic