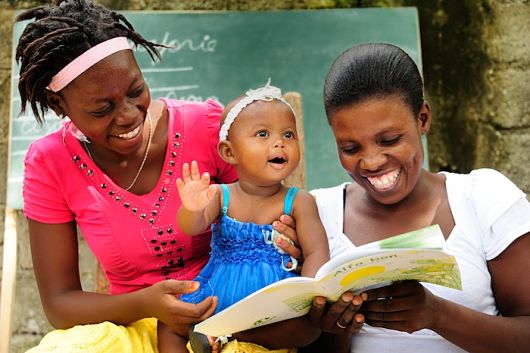 Using a unique stair-stepping model, Fonkoze Bank helps put money into the hands of some of Haiti's poorest people. Stationed in Port-au-Prince, Haiti and Washington D.C., Fonkoze has operated for 11 years, working with citizens in Haiti to improve their financial standing and rise out of poverty.
Fonkoze Bank was founded by Father Joseph Philippe, a Haitian priest who made it his goal to help rural Haiti become economically stable.
While Fonkoze Bank helps people of different backgrounds, its primary focus is Haitian women, who are considered to be Haiti's "poto mitan," or Haiti's "backbone". Women are the head of the household in 44 percent of all Haitian homes and are the largest contributors of small commerce.
Fonkoze Bank is divided into 45 branches which encompass all of Haiti. Since inception, the Bank has provided financial, health and education assistance to more than 60,000 people through its four-step model.
Step One: Chemen Lavi Miyo
Chemen Lavi Miyo stands for "pathway to a better life" and is the first step in Fonkoze's stair-stepping model. During this step, Fonkoze Bank provides women with the tools and resources needed to escape poverty and transition to a life of self-sufficiency.
Step Two: Ti Kredi
Ti Kredi, which is Haitian for "little credit" is where the microfinance portion of Fonkoze's services comes into play. The six-month program assists women, especially those coming from vulnerable backgrounds, to develop business skills through education and training to help ensure success as micro-entrepreneurs.
On average, 92 percent of Ti Kredi participants graduate from the program. Successful graduates are able to cut their hunger rates by one-third and close to 100 percent of graduates are able to send their children.
Step Three: Solidarity
The Solidarity Program permits groups of five women, called solidarity groups to take out loans to help maintain their businesses during tough economic times.
Teams of five or six solidarity groups will meet a few times a month at "solidarity centers". The women not only develop plans to repay their loans but also support each other's businesses in the process. This helps promotes solidarity among micro-entrepreneurs in different geographic locations.
Step Four: Business Development
The final step of Fonkoze's stair-stepping model is business development. During this step, women are able to take out loans surpassing the amounts they received in the second and third steps. They are also able to participate in a 12-month program giving their businesses the potential to take off and even thrive.
As of 2013, Fonkoze Bank had distributed more than $30 million in loans and continues to positively impact the lives of women who have been unable to access traditional funding from urban banks in Haiti.
– Julia Hettiger
Sources: Fonkoze, Charity Navigator, Grameen Foundation
Picture: Google Images
https://borgenproject.org/wp-content/uploads/logo.jpg
0
0
Borgen Project
https://borgenproject.org/wp-content/uploads/logo.jpg
Borgen Project
2016-01-11 01:30:26
2020-06-24 16:35:36
Fonkoze Bank Assists Haiti's Poor