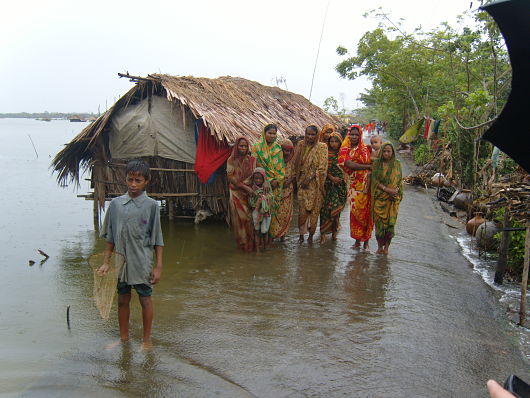 Within the scientific community, it is a foregone conclusion that developing coastal nations with lowland geography are the most susceptible to impending climatic changes. Bangladesh has recently begun to see these effects with sea levels rising and more frequent and intensified weather conditions. Being situated in Southeast Asia, the country is already susceptible to monsoons, landslides, hurricanes and natural flooding. These factors present an alarming set of natural environmental implications.
This is especially true for a country where a quarter of the land area is less than 7 feet above sea level. Bangladeshi scientists have estimated that by 2050, 17 percent of the country area will have been submerged. This would displace roughly 18 million people and, in turn, significantly cut the country's food supply.
Bangladesh is one of the most densely populated and underdeveloped countries in the world. The country has roughly a fifth of the land area of France and contains a population of about 166 Million. This has resulted in an incredibly high population density at 755 persons per km. This set of circumstances poses a serious problem for almost all current climate projections and estimates.
The overpopulation has also caused a great strain upon the country's remaining fertile lands. Bangladesh lies in the Ganges River Delta which is made up of over 230 rivers and streams. Approximately 55 percent of the country's low lying geography is arable land, making agriculture one of Bangladesh's biggest industries. Currently, 45 percent of the country's workforce lives in and relies upon a suddenly shrinking agriculture industry.
As flooding increases and sea levels rise, there is simply not enough arable land to sustain a country of over 160 million people. The country's economy is mostly agrarian-based and many residents are subsistence farmers. The floods have completely destroyed many of the county's rice crops which are a staple of the Bangladeshi diet and crucial for many farmers' livelihoods.
Historical data shows that floods have increased in frequency, intensity and duration since Bangladesh's independence in 1971. This past summer, flooding in Northern Bangladesh left half a million people displaced and homeless. The two main rivers of Bangladesh, the Meghna and the Brahmaputra, rose to dangerous levels and completely flooded 14 of the country's 64 districts. Being displaced from their homes, people sought refuge in makeshift shelters, and in some cases, schools.
In response to these conditions, Bangladesh has initiated a National Plan of Action and National Climate Change Strategy. The programs have begun a process of dredging rivers, raising levees and pumping water to compensate for increased flood conditions. The programs have also focused on creating early warning systems and have built over 2,500 concrete storm shelters. Almost 6,000 km of embankments have been constructed in efforts to combat heightened flood conditions. Additionally, 200 flood shelters have been built as well as almost 5,000 km of drainage channels meant to redirect the flow of floods.
These measures have made a significant impact on short term disaster safety. In 1970, before any sort of emergency response infrastructure, Cyclone Bhola killed an estimated 550,000 Bangladeshis. This stands in comparison to 200 casualties during Cyclone Aila in 2009. While the latter was still a disaster of immense proportions, the disaster preparedness and response measures were clearly evident and effective in terms of saving lives.
In 2013, emergency measures were once again tested when tropical storm Mahasen broke Bangladeshi shores. An estimated one million people from 13 coastal districts were evacuated north to shelters and fortified locations. This was accomplished through a procedure of government alerts, notifications and by collaboration of thousands of volunteers.
A statement by the UN Office for the Coordination of Humanitarian Affairs read, "While tropical storm Mahasen reached the coastline of Bangladesh on Thursday weaker than anticipated, the preparedness work undertaken by the Government and humanitarian partners saved countless lives." This provides further evidence that the disaster mitigation protocols have been effective.
However, being a developing nation in an increasingly dangerous climate, Bangladesh is still relying upon developed countries and NGOs to jointly make changes in both emissions standards and practices. Acute response tactics can certainly provide temporary solutions for saving lives and crops, but measures with a long term focus are necessary for a solution to a much greater global issue.
– The Borgen Project
Sources: BBC, New York Times, United Nations Environmental Programme, Science Direct
Photo: Oxfam
https://borgenproject.org/wp-content/uploads/logo.jpg
0
0
Borgen Project
https://borgenproject.org/wp-content/uploads/logo.jpg
Borgen Project
2015-07-02 10:00:52
2022-01-19 00:42:45
Climate Change in Bangladesh