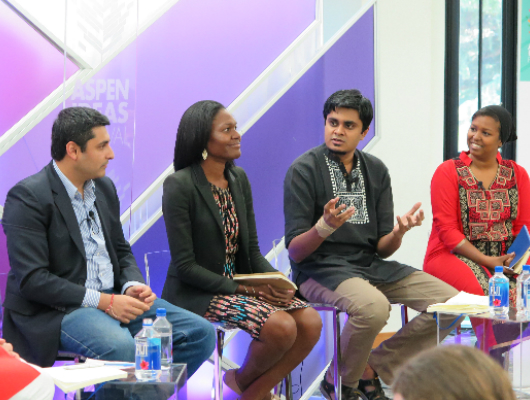 Entrepreneurs are individuals that go beyond the status quo in order to make change happen. "They pursue poverty alleviation goals with entrepreneurial zeal, business methods and the courage to innovate and overcome traditional practices," says the Schwab Foundation for Social Entrepreneurs.
Reform and change are never made without a struggle. Social entrepreneurs in education are no different.
Many struggle with receiving the support and funding necessary to keep programs running. But despite hardships, they press forward in order to make improvements.
Occasionally, an entrepreneur will find a break in the form of investors. Schwab, Skoll and Ashoka are three such foundations that provide this relief to individuals making change happen around the world.
One such fellow, or entrepreneur, that found relief works for an organization by the name of abcdespanol. Based in Colombia, the organization worked to create a new methodology for teaching reading, writing and math skills.
Javier Gonzalez discovered that the issues across Latin America were not due to the people, but the methodology while playing a game of dominoes. "González then created abcdespañol and "ABC de la Matematica", an innovative learning solution employing games as a teaching methodology."
For many, this is how it works. Social entrepreneurs in education see an issue and then fight to find and put into practice new ideas to correct the issue. The journey doesn't stop there, though.
Going back to Javier, "he continued searching for additional ways to make the learning process more interesting."
Education isn't an easy fix and is not a one solution fits all circumstance ordeal. Teaching the world's future leaders takes innovation and improvement. Social entrepreneurs, like Javier, know this and continue to seek out a better way.
Ashoka fellow Flick Asvat of South Africa is another excellent example of this.
In the country of South Africa, Asvat found that many youths become more discouraged than not by the truism that education is the path out of poverty due to the strikes, violence, and other issues that have continuously interrupted such attempts.
To fight this, "Flick is putting children in control of their own out-of-school educational programs. She has developed a concept, Bugrado, based on the idea that human beings have the power to change their circumstances."
Through innovative new techniques, real change was seen in schools. "Flick has successfully created five pilot programs around Johannesburg and is now focusing on Alexandra Township, where the program is operating in four schools, reaching approximately six thousand students."
As a social entrepreneur in education, Flick resigned from her job as Minister of Education to solely focus on the implementation of the Bugrado program.
Such stories have become increasingly common. Through simply opening one's eyes and caring about making a difference, individuals have made change happen. When one thing doesn't work, new ones are tried. In this way, education is constantly improving.
Jeff Skoll, Founder and Chairman of the Skoll Foundation has expressed the importance of these social entrepreneurs around the world.
On their site, it is stated that it has become, "the premier global event for social entrepreneurship…the Forum has increasingly become a showcase to highlight large scale impact that social entrepreneurs are having on the big challenges facing the planet."
By connecting social entrepreneurs with the resources and connections they need to improve conditions, the Skoll Foundation helps millions experience the impact of positive change.
In short, these entrepreneurs are alike in a fundamental thought process. As Skoll puts it, "I believe "a lot of good comes from a little bit of good," or, in other words, where the positive social returns significantly outstrip the amount of time and money invested."
– Katherine Martin
Sources: Schwab Found 1, Schwab Found 2, Ashoka, Skoll
Photo: Wikimedia
https://borgenproject.org/wp-content/uploads/logo.jpg
0
0
Borgen Project
https://borgenproject.org/wp-content/uploads/logo.jpg
Borgen Project
2015-11-07 01:30:48
2020-06-24 19:23:59
Social Entrepreneurs in Education Are Making An Impact