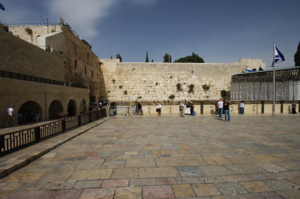 Despite its successful economy, Israel's poverty rate is higher than average at 21 percent of the population below the poverty line. Many families in this percentage struggle for food and basic necessities, even with Israel's government programs meant to assist the underprivileged. Fortunately, several nonprofit organizations within Israel devote themselves to helping the poor. Here are five Israeli charities that break the poverty cycle.
Yad Eliezer
One of Israel's top poverty-relief charities, Yad Eliezer has provided for Israel's poor for almost 30 years. At its founding, it intended only to deliver monthly baskets of food to families in need. Since then, the organization has grown to encompass 19 social service and economic programs devoted to aiding over 18,000 Israeli families per year. These programs include the distribution of food, clothing and household items, as well as job training and child education. Its efforts for economic recovery and social welfare have broken the poverty cycle for over 20,000 families living in Israel permanently.
Yad Ezra V'Shulamit
Another well-known charity among Israelis is Yad Ezra V'Shulamit and it also began as a hunger-relief charity in 1998. Today, it provides food to thousands of Israel's poor. While food delivery remains a focus of the organization, it has since expanded its efforts towards humanitarian services, focusing on individual empowerment through tailored rehabilitation as well. These services include academic tutoring, after school educational programs, professional guidance and activities for at-risk teenagers. The extracurricular programs offer assistance in building self-confidence and ultimately future success, subsequently bringing these individuals out of poverty for good.
Leket Israel
Leket Israel is the country's leading food rescue organization. Emerging in 2003 under the precursor name Table to Table, Leket Israel saves and collects the surplus of agricultural harvests and cooked meals, then distributes them to families in need. In doing so, it ensures that excess food does not go to waste and removes the problem of food insecurity. Members of its staff make sure that hungry families in Israel receive healthy, nutritious produce and meals and that the food is up to par with safety regulations. Today, Leket Israel is the largest food distribution network in the State of Israel.
Lev Lalev
Based in Netanya, Israel, Lev Lalev focuses on feeding and sheltering disadvantaged Israeli children. Primarily a Girls Orphanage and Children's Home, the Lev Lalev Charity Fund provides the girls with not only food and shelter, but also individualized therapy, mentoring, tutoring, clothing and summer camp activities. The organization also supports the girls through adolescence and adulthood, arranging religious and cultural events for them, such as Bat Mitzvahs, graduations, weddings and meals for religious holidays.
Meir Panim
Meir Panim is a relief organization that runs multiple projects to ensure that no Israeli suffers from hunger and existential distress. Meir Panim runs soup kitchens, restaurant chains, children's programs that offer academic assistance as well as food, activities to promote distressed youths and food packaging programs. In addition, it provides food cards and redistributes furniture and second-hand equipment to people in need.
In short, these Israeli charities have helped and saved thousands of people from poverty. Donation funds from Israeli citizens, as well as some of the organizations' international branches, allow these charities to continue their good work and break the poverty cycle for yet more individuals and families in need.
– Yael Litenatsky
Photo: Flickr
https://borgenproject.org/wp-content/uploads/logo.jpg
0
0
Kim Thelwell
https://borgenproject.org/wp-content/uploads/logo.jpg
Kim Thelwell
2019-10-14 01:30:03
2019-11-21 12:00:37
5 Israeli Charities that Break the Poverty Cycle