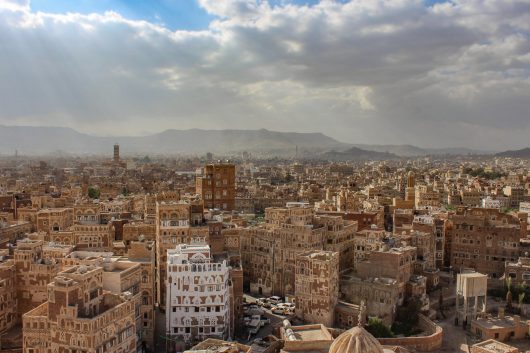 After two-and-a-half years of war, Yemen is left in ruins and struggling to overcome health, social and economic problems within the country. Demolished hospitals, crippled bridges, bombed industries, and poor sanitation and nutrition contribute to the devastating situation imparted by the war on the country and its citizens.
A Failing Healthcare System in Yemen
The health status of the population in Yemen is currently described as "catastrophic." Damage from the war has transformed the nation into a fertile environment for cholera due to the highly contaminated water, which amplified the proliferation of fecal bacterial infections.
Since sewage systems have failed and garbage has piled up to cover entire neighborhoods and regions of the country, more Yemenis rely on polluted water sources for drinking and cooking. Alongside cholera, a quarter of all health facilities in Yemen are no longer operating or have already closed down; this situation escalated rates of morbidity and mortality among citizens, particularly those needing surgery or emergency care such as patients with chronic kidney failure who are dependent on life-saving support.
The shortage of qualified health professionals and physicians created a gap in primary healthcare — especially among children — as lower immunization rates led to a significant rise in the number of polio and measles cases reported.
To create a temporary and effective solution, the World Health Organization (WHO) trained more than 50 mobile medical teams and 20 fixed emergency care teams to provide people with increased access to primary health care services, and to support the operation of 72 health facilities as a way to prevent their closure.
The Fight Against Measles and Polio in Yemen
On August 15, 2017, WHO launched the fight against measles and polio in Yemen through its nationwide vaccination campaign. More than 3.9 million children under 5 years go age were vaccinated against polio and around 860,000 children aged 6 months to 15 years were immunized against measles in high-risk areas.
UNICEF also joined efforts toward the fight against measles and polio in Yemen by collaborating with WHO to ensure effective vaccination interventions for vulnerable populations, such as children and pregnant women. Julien Harneis, UNICEF Representative in Yemen, asserted that UNICEF's mobile teams and staffs sacrifice their lives and endanger their health during their daily outreach activities within the community due to the hazardous conditions present in the country.
The medical and public health professionals work to overcome all obstacles in preventing additional deaths and morbidities associated with preventable diseases such as polio and measles.
Dr. Gamila Hibatulla, Nutrition and Health Officer for UNICEF in Aden-Yemen, explained that mobile teams rely on public sites, such as mosques, to deliver necessary health services. Vaccination is a central goal to both international agencies of WHO & UNICEF so as to prevent and manage any infectious diseases that could create an additional burden for the government and a crumbling healthcare system. Ms. Hibatulla praised the parents of young children for collaborating with the agency's work by ensuring that their kids get immunized against serious diseases.
Challenges & Setbacks
Despite the national campaign's accomplishments in the fight against measles and polio in Yemen, Dr. Ahmed Shadoul, the WHO Representative from Yemen, stated that the positive results generated from the campaign were only "the tip of the iceberg" in terms of the international organization's response. According to Dr. Shadoul, only a portion of the population was reached by these efforts, as a result of limited funding and failure to reach people residing in war zone areas.
Future plans are being developed to render vaccination and primary prevention efforts more effective, and through continuous coordination, cooperation and collaboration between international agencies and the Yemeni community at large, such a goal can be obtained.
– Lea Sacca
Photo: Flickr
https://borgenproject.org/wp-content/uploads/logo.jpg
0
0
Borgen Project
https://borgenproject.org/wp-content/uploads/logo.jpg
Borgen Project
2018-02-24 07:30:40
2019-11-29 14:59:24
WHO Initiative & the Ongoing Fight Against Measles and Polio in Yemen