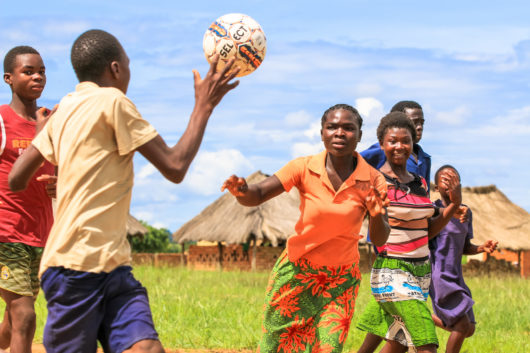 Zambia, a southern African country with a population of 15.5 million, is one of the fastest growing economies on the continent due to copper mines and agriculture diversification. However, despite its economic growth, Zambia is still one of the poorest countries in the world with 60 percent of the population living below the poverty line and 40 percent of those people living in extreme poverty. With a fast-growing population and high youth unemployment rates, Zambia is still facing the challenge of widespread poverty. In the article below, the top 10 facts about living conditions in Zambia are presented.
Top 10 Facts About Living Conditions in Zambia
According to Habitat for Humanity, around 64 percent of Zambian's live under $2 a day and people that are extremely poor live under $1.25 a day. However, due to the rapidly growing economy, living in Lusaka, the country's capital, is more expensive than living in Washington D.C.
Zambia is experiencing rapid urbanization due to the increased job and higher income opportunities. The current urban housing shortage is around 1.3 million housing units. This figure is expected to increase to 3 million housing units by 2025. Due to the lack of housing, it is reported that about 70 percent of the urban population lives in slums with critical water and sanitation problems. Habitat for Humanity has been trying to reduce housing poverty in the country for a few decades. and has served about 3,500 families and continues to improve the housing conditions for many Zambians.
Fertility rates in Zambia are on the rise. Between 2013 and 2014, the reported fertility rate was 5.2 percent of children per woman. It is reported by the United Nations that Zambia's population is projected to increase by 941 percent by the end of the century, making it the highest projected growth rate in Africa.
In many areas, Zambia has an inadequate sewage system and many Zambians lack a proper toilet. According to National Public Radio (NPR), it is reported that about 6.6 million people in Zambia lack a proper toilet. The country has an acute sewage issue with pit latrines covering about 45 percent of Lusaka. When the pits are filled there are either emptied by the local authority or the owners just fill them up and construct new ones.
It is estimated that 4.8 million people in Zambia do not have access to clean water and rely on rivers and lakes that are contaminated with feces. The contaminated water is used as drinking water and to cook food which leads to diarrhea and cholera. However, WaterAid is helping countries like Zambia to get access to clean water, decent toilets and good hygiene.
Approximately 2,000 children under the age of 5 die on a yearly basis due to contaminated water and poor toilets. In 2013, statistics showed that more than 3,500 new-born babies died of infections that were linked to unsanitary water in Zambia.
Zambia is one of the 20 countries have pledged to end child marriage by 2020. Around 6 percent of Zambian girls are married before the age of 15. However, child marriage rates have reduced from 42 percent to 31 percent in 2014. To reduce the child marriage rate, Zambia has adopted the National Strategy on Ending Child Marriage in Zambia.
Zambia, like many other African countries, has been battling the challenge of hunger for many decades. About 1.12 million children under the age of 5 in Zambia suffer from chronic malnutrition. Furthermore, there is about 60 percent prevalence of anemia among young children in Zambia.
According to the CDC, HIV/AIDS and TB are the top diseases in Zambia that cause death. However, HIV/AIDS-related deaths have declined by more than a third. Also, the infection rates among young children have declined from 14,000 in 2005 to 7,300 in 2017.
Access to education in Zambia has increased rapidly. However, the quality of education is still lacking. USAID is putting in the effort to improve the quality of education by implementing education programs that target the performance of the students and teacher.
Zambia's economy is improving rapidly. However, living conditions have hardly improved over recent years. People are still struggling to get access to basic survival resources and are living in unsanitary conditions that give rise to chronic diseases. One of the adverse effects of the growing economy is it has widened the inequality gap. Despite the country's growing economy, 60 percent of the population is still struggling to make a living. However, the living conditions in Zambia can improve if the government focuses on implementing programs that will reduce the overcrowding, the improve the quality of education and help provide clean water to every citizen. Zambia may have grown economically, but the fight for poverty reduction is yet to come.
– Komalpreet Kaur
Photo: Flickr
https://borgenproject.org/wp-content/uploads/logo.jpg
0
0
Kim Thelwell
https://borgenproject.org/wp-content/uploads/logo.jpg
Kim Thelwell
2019-03-18 13:30:59
2019-12-18 13:27:47
Top 10 Facts About Living Conditions in Zambia