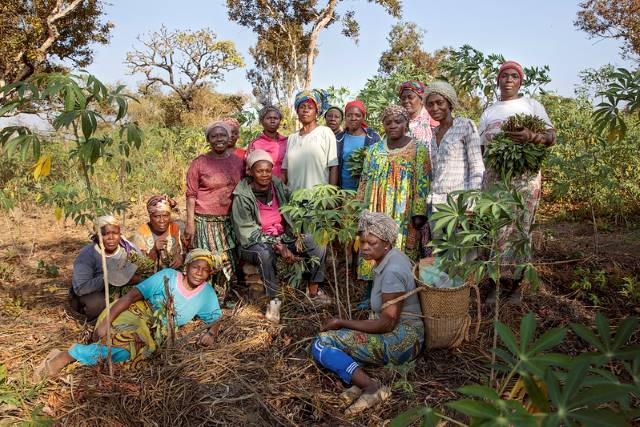 For the estimated three-quarters of the global impoverished residing in rural environments, agriculture is the primary source of income. Any aspirations of poverty eradication are existentially dependent on the development of these communities. Cooperatives are associations of people who come together to achieve common economic, social and cultural goals. The long-standing tradition of agriculture cooperatives in impoverished communities, where small farms pool resources, is a potential component of an efficient policy to offset the ravages of endemic poverty in agrarian economies.
A Moment in the Sun
Designated by three branches of the United Nations, 2012 was the International Year of Cooperatives. One of its primary ambitions was to highlight the financial disadvantages of small farms and the potential for inter-community economic unions to fight poverty. Agricultural cooperatives, having an impact that "cannot be overstated," figured heavily into U.N. recommendations and initiatives. Creating 20% more employment opportunities than multinational ventures, agriculture cooperatives in impoverished communities provide a long-term potential for sustainable job creation, which is paramount to poverty eradication.
Harvesting Prosperity, a 2020 World Bank report, concluded that funding agricultural productivity is twice as effective at reducing extreme poverty as alternative methods. Crucially, the exhaustive report details the belief that industrial farms are the gold standard of high-yield agriculture. Contrarily, current research on "the inverse relationship hypothesis" questions the correlation between scale and productivity. Because impoverished rural communities are overwhelmingly populated with small-scale subsistence farms, one cannot overstate the essentiality of agriculture cooperatives in impoverished communities.
Being unique entities based on democratic principles, each cooperative has distinct requirements that defy a universal approach. The economic complexities of members serving as both suppliers and owners create multifaceted organizations with financial and social obligations, as opposed to a corporate performance that is based solely on finance and profitability. The dualistic nature of cooperatives as inherently business and community actors gives these organizations a great deal of leverage to impact the well-being of their communities.
Portuguese Traditions in the Age of Globalism
Over the long history of wine-making cooperatives in Portugal, these unions have consistently allowed members to garner higher prices and greater market share while simultaneously improving value chains and decreasing transaction expenses. Additionally, Portugal has garnered attention as cooperative bylaws are enshrined in the constitution, making them integral to the national economy.
With 39,506 vineyards in the Douro wine-growing region alone, the long-term economic future of an essential component of Portuguese national character requires the implementation of structural reform. Cooperatives represent 46% of regional production in Douro and Port. With most farms under one hectare, individual producers must combine resources to vinify grapes. But, after several failed governmental attempts at modernization in response to globalism, agricultural cooperatives have been stymied by encroaching foreign markets.
Upon Portugal's entry into the EU in 1986, a direct-to-consumer model that sustained wine cooperatives became untenable as cheap imports via larger wine-producing nations like France and Italy brought competition. Furthermore, environmental and geographic factors prevented Portuguese vineyards from countering increasing imports through higher production. Often inefficient bureaucracies, a slow transition, accompanied by foreign investment allowed Quintas — independent for-profit producers — to flourish. Many Portuguese wine agriculture cooperatives in impoverished communities did not survive the opening salvos of globalism.
Think Local, Act Global
The culling of slow-responding cooperatives has forced researchers and policymakers to develop a framework for adaptability. Several organizations, native and foreign, contribute to shaping and communicating the strategies for agriculture cooperatives in impoverished communities.
Restoring Profitability to Agriculture
As rural communities face increasing pressure from foreign influence, these already-disenfranchised populations will struggle to have others hear them amid the cacophony of global interests. Portuguese winemakers, that the rapidly-changing economy overwhelmed, suffered immense emigration as farming no longer provided sufficient income. Restoring profitability to agriculture is a powerful mechanism by which endemic poverty can disappear. Organizations at numerous levels will be instrumental in this effort, but progress must begin with collaboration in agrarian rural communities.
– Kit Krajeski
Photo: Flickr
https://borgenproject.org/wp-content/uploads/logo.jpg
0
0
Jennifer Philipp
https://borgenproject.org/wp-content/uploads/logo.jpg
Jennifer Philipp
2021-06-07 11:42:08
2022-04-06 06:33:59
Agriculture Cooperatives in Impoverished Communities