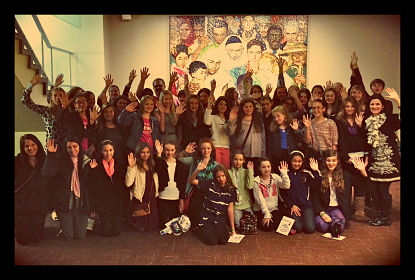 One in six girls in the developing world will not complete an education past the sixth grade.  Add this sobering statistic to shocking numbers which illustrate that the entire continent of Africa has less than a 60% literacy rate, and one can see just how many challenges in completing an education the youth of the developing world face.  However, girls in particular face an even greater challenge due to the widespread gender inequalities that still exist.
Girls Learn International (GLI) is a nonprofit, student-run organization and movement that encourages U.S. students to promote education for women throughout the world.  Lisa Alter founded the movement with her two teenage daughters in 2003.  Alongside Arielle and Jordana, Lisa began to inspire various youths to get involved in humanitarianism and women's rights while still in school.  As a result, GLI currently has 114 chapters in over 26 states across the country. GLI also boasts partnerships with 47 schools in 11 countries, including Afghanistan, India, and Ghana.
Countries not providing equal access to education for women will end up losing out on $92 billion for their respective economies, according to Girls Learn International.  Additionally, 7 million cases of HIV/AIDS could be prevented if every child received a primary education, hence why GLI lives by the creed, "Women's Education is a Basic Human Right."
Furthermore, GLI has numerous partnerships and sponsors.  GLI is part of the Feminist Majority Foundation, the  Feminist Campus, and is a sister organization to Ms. Magazine.  The organization has also partnered with the Global Campaign for Education's U.S. Chapter while also fielding a delegation to the United Nations Commission of the Status of Women.
The organization seeks to empower young women and have them take initiatives towards working for global education.  However, gender equality cannot be achieved without the contributions of idealistic young men as well.  To drive this point home, GLI boasts having an all boys' chapter in Pennsylvania.  Regardless of gender, if you are a young person interested in providing education for women everywhere, GLI is the organization for you.
– Taylor Diamond
Sources: Girls Learn International, Global Campaign for Education
Photo: The Alternative Press
https://borgenproject.org/wp-content/uploads/logo.jpg
0
0
Borgen Project
https://borgenproject.org/wp-content/uploads/logo.jpg
Borgen Project
2014-01-15 08:49:03
2017-12-08 03:20:42
Empowering Education: Girls Learn International