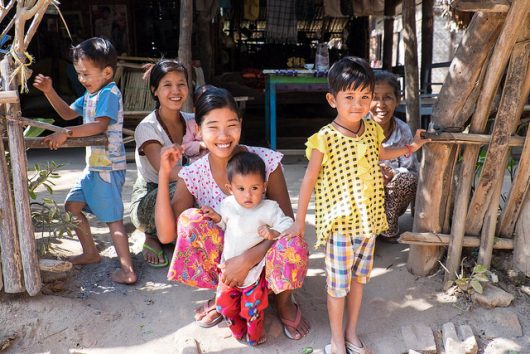 In 2011, Myanmar, the Southeast Asian country formerly known as Burma, began to transition to a democratic form of government after previously being under military rule for decades. This transition to a civilian-led government encouraged leaders of Myanmar's economy to open their borders to foreign investment and reintegrate the country into the global economy.
Myanmar's Isolated Past
Despite the country's best efforts to catch up economically, Myanmar remains one of the poorest countries in Asia. Roughly 26 percent of the population's 55 million people lives below the poverty line. This is a result of the isolationist policies that existed for years prior to the country opening its borders to the rest of the world. As a result, Myanmar suffers from poor infrastructure, underdeveloped human resources and deeply embedded government corruption.
As the country moves to a democratic form of rule, women have been finding ways to participate in a political system that was historically headed by men. A recent push for women in government in Myanmar's last two elections in 2010 and 2015 shows the potential for more women representation and equality for women across the country.
Women in Government
On paper, Myanmar appears to be one of the most progressive countries in Asia when it comes to women in government. In 1935, women were given equal political participation rights in the constitution. Additionally, in 1995, Myanmar endorsed the Beijing Declaration and Platform for Action. This aimed to remove obstacles for women in both the public and private spheres of life.
However, women's ability to participate in Myanmar's government has been relatively limited. Sixty years of military rule kept women from participating in any capacity in the decision-making process. Even today, though Myanmar appears to be progressive when it comes to gender equality, the reality is that there are relatively few women in government compared to men. In the 2010 elections, only 6 percent of national parliamentarians were women.
It is essential to include women in the government decision-making process as Myanmar attempts to address issues of poverty within their borders. Female representatives can bring new perspectives as the country continues to develop. Many groups exist to promote the inclusion of women in politics of Myanmar. One of the many active groups is Women Can Do It.
Women Can Do It
Women Can Do It (WCDI) is an organization dedicated to raising awareness and building self-confidence in women. Across the country, women influenced by this organization are encouraged to run for office and become change-makers for their communities.
Created in 2001, well before the country's transition to democracy, WCDI is working to create a just, peaceful and gender-equitable society in Myanmar. One of its key goals is to get women involved in the government decision-making process on issues of peace and development nationwide. This includes some of the aforementioned issues like addressing poor infrastructure, inadequate human resources, and fighting corruption.
WCDI works in five primary sectors:
Capacity Building
Research and Advocacy
Campaign
Media and Publication
Sisterhood Bonding
By focusing on these five sectors, WCDI educates women and pushes for more women in government across the country. The organization uses these five areas to give women a springboard from which to advance and become more involved in their communities. These efforts have great potential to improve the quality of life not only for its women, but for all of Myanmar's citizens.
– Sonja Flancher
Photo: Flickr
https://borgenproject.org/wp-content/uploads/logo.jpg
0
0
Borgen Project
https://borgenproject.org/wp-content/uploads/logo.jpg
Borgen Project
2018-03-09 01:30:01
2019-11-24 11:50:38
Women Can Do It: Myanmar's Push for Women in Government