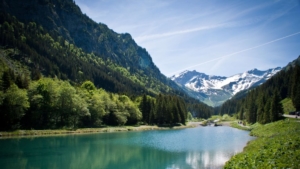 Liechtenstein is a little-known principality located between Austria and Switzerland. Despite its small size (roughly 38, 000 inhabitants) it has a growing economy, which allows for residents to have a high standard of living. Here are the top 10 facts about living conditions in Liechtenstein.
Top 10 Facts About Living Conditions in Liechtenstein
Liechtenstein provides its workers with some of the highest wages in Europe – Because of the growing economy, citizens of Liechtenstein benefit from one of the highest wage levels across Europe. On average, citizens make about $92,000 annually. When compared to the average gross salary of Germany's citizens, Liechtenstein's citizens have a higher income by about $15,000.
Living costs are high – While the country has high wage levels, it also has high living expenses. The average citizen spends about half their monthly income on their fixed costs, which usually include housing, utilities, transportation and health insurance. Despite the high living costs, Liechtenstein has a zero percent poverty rate with poverty being defined as those living at or below $5.50/day.
The country offers universal health care – Health insurance is required and guaranteed to all people living or working in Liechtenstein. Individuals' insurance is financed by their insurance holder and their employer as well as by state subsidies. Although there is no current data with regards to the increase in healthcare costs over time in Liechtenstein, in 2016, the government spent $188 million on social welfare programs such as healthcare.
The government provides its residents with a high-quality education – Liechtenstein relies on its excellent education system to provide the economy with highly qualified workers. After completing the mandatory schooling period of 11 years (from primary school to high school), individuals are left with a range of options to pursue further education. These options include vocational training, higher education (college or university), and apprenticeships.
A high percentage of Liechtenstein labor force commutes into work – The Feldkirch-Buchs railway connects Switzerland to Austria, passing through Liechtenstein on the way. This railway allows workers to commute into Liechtenstein. Since a majority of the country's workers, (55 percent) are from neighboring countries, this system is crucial in maintaining Liechtenstein's labor force. The reason behind the high number of commuters is because Liechtenstein's economy has grown so quickly over the past years that its domestic labor force has not been able to keep up.
Liechtenstein has a strong economy – Liechtenstein has one of the highest measures of GDP per capita in the world ($168,146.02) and a low inflation rate of 0.5 percent. Although not officially recognized by the European Union, it does receive some of the monetary and economic benefits of the organization because of its deal with Switzerland, which stipulates that they import a large percentage of their energy requirements from the Swiss and use the Swiss Franc as their national currency.
Residents have religious freedom – Although an overwhelming majority of the population is Roman Catholic (the official state religion), there remain many individuals in the country who practice other religions or other forms of Christianity. The state is currently in the process of separating itself from the church, however, this is largely considered a symbolic move, as the current union does not appear to affect adherents of other religions. The government is pursuing this initiative by creating a provisional constitutional amendment to establish new regulations between the state and the religious communities. Additionally, there has been mention of providing more equitable funding for all the different religious organizations, rather than solely giving the Catholic church more funding.
The country provides immigrants with good living conditions – Immigrants make up about 65 percent of the total population in Liechtenstein.  Many of these immigrants come from nearby countries such as Switzerland, Austria and Germany. Although the requirements for the naturalization process are quite lengthy, (an individual has to live in Liechtenstein for 30 years before beginning the process) immigrants receive all the same benefits that natural-born citizens receive.
Liechtenstein has low unemployment – Liechtenstein has an unemployment rate of 1.9 percent. Most of its labor force is employed in the services and goods sectors, with only 0.6 percent being employed in the agriculture sector. About 40 percent of the workforce is employed in the industrial sector, which, combined with the manufacturing sector, make up about 40 percent of the country's gross value added. Its economy is focused primarily on high-quality exports, services and goods such as machine and plant construction, as well as precision tools and dental instruments, among other items.
Liechtenstein has had issues with spreadable diseases in the past – Some of the most common diseases include influenza, hepatitis B and tick-borne encephalitis. The country has since introduced several initiatives to address these issues, signing treaties with Switzerland and Austria in order to provide its citizens with better healthcare options.
These top 10 facts about living conditions in Liechtenstein demonstrate the quality of life with which residents of Liechtenstein experience on a daily basis. While the country certainly has some very positive trends going for it (namely, unemployment, wages, GDP, and its education system) it also has some things to improve upon, such as reducing living costs, which make it hard for many individuals to live in the country. Nevertheless, Liechtenstein appears to be in a good state presently, as it provides many services and freedoms that make it a desirable place to live.
– Laura Rogers
Photo: Flickr
https://borgenproject.org/wp-content/uploads/logo.jpg
0
0
Kim Thelwell
https://borgenproject.org/wp-content/uploads/logo.jpg
Kim Thelwell
2019-09-04 12:30:09
2019-11-06 10:37:57
Top 10 Facts About Living Conditions in Liechtenstein