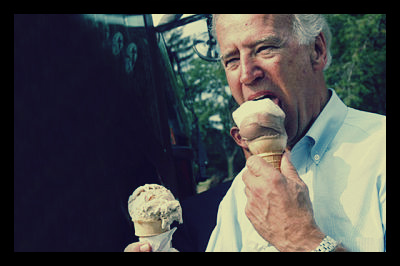 On the 11th day of a hunger strike, Vice President Joe Biden made a surprise visit to a Fast for Families strike tent on the National Mall in Washington. The Vice President then prayed with the group and encouraged their efforts to bring immigration reform.
The U.S. Senate passed a bipartisan immigration bill (S.744) in June. However, the House of Representatives has been deadlocked on the issue. Fast for Families supporters have vowed to fast until the House votes on the immigration reform bill that has already passed in the Senate. The Fast for Families effort in Washington is in conjunction with local fasts and events taking place in congressional districts all over the country.
The Vice President's visit inspired the fasters as he addressed the crowd saying, "[w]e're going to win this." Vice President Biden and President Barack Obama have struggled to keep immigration issues in the spotlight since the President made a promise to bring immigration reform in his campaign.
Biden also said during his visit to the Fast for Families tent, that the 11 million undocumented men, women, and children working for citizenship are already Americans. Throughout the first eleven days, Fast for Families has been visited by many public officials including Rep. David Valadao (R-CA), Secretary of Labor Tom Perez, Secretary of Agriculture Tom Vilsack, House Minority Leader Nancy Pelosi (D-CA), and Reverend Jesse Jackson.
Fasters have vowed that they will continue fasting until they can no longer sustain themselves or are "medically prevented" from continuing. Long time immigration reform activists participating in the fast received the Vice President's visit and message as inspiring. In fact, Biden's visit, in connection with House Speaker John Boehner's recent comments at a news conference on November 21 that immigration reform is not dead, has offered hope to immigration reform advocates and a sign that the change they hope for is coming.
For more information and Fast for Families updates, please visit fast4families.org.
– Daren Gottlieb
Sources: Time, Los Angeles Times, Fast for Families
Photo: Media Heavy
https://borgenproject.org/wp-content/uploads/logo.jpg
0
0
Borgen Project
https://borgenproject.org/wp-content/uploads/logo.jpg
Borgen Project
2013-12-15 04:00:55
2020-07-17 13:41:57
Fast For Families