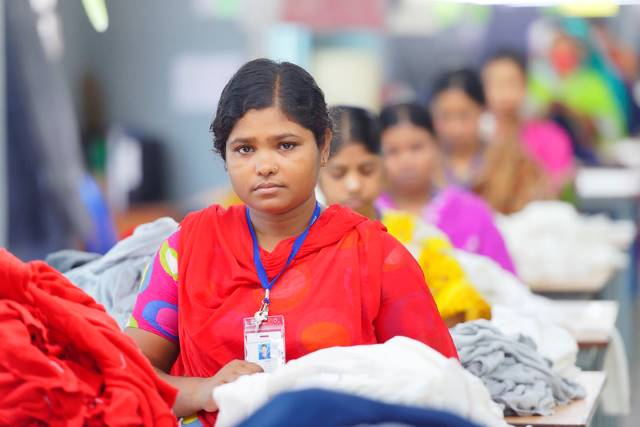 Merriam Webster defines fast fashion as "an approach to the design, creation and marketing of clothing fashions that emphasizes making fashion trends quickly and cheaply available to consumers." To many people, this phrase means trendy clothing for affordable prices, but to the garment workers and citizens of Bangladesh, fast fashion means unlivable wages and unsafe working conditions. Bangladesh is the second-largest producer in the garment industry after China and is home to more than 8,000 garment factories. The clothing produced makes up 83% of the country's total exports. With more than four million Bangladeshi citizens working in these factories, the stability of the nation depends on the industry, which is controlled by the Global West.
The Fast Fashion Industry
Fast fashion is controlled by demand. The industry needs to pump out clothing quickly so stores have the clothes in stock before the trend fades. American and European demand for Bangladesh to produce is constantly increasing, which creates lower wages, more precarious working conditions and detrimental environmental consequences.
Bangladeshi garment workers make an estimated $25 to $75 a month. This is an impossible wage to live on, especially in large Bangladeshi cities such as Dhaka, where most of the garment factories are located. Nazma Akter, a seamstress in Bangladesh who began working in factories at 11 years old, stated, "We are cheap labor — that is why we are scared; we need money, we need to survive." With an unlivable wage comes an unlivable life.
This violation of human rights comes with serious economic effects. With such a large percentage of the population living on so little, there are few citizens who are able to invest in Bangladesh, spend money to boost the economy and help lift the nation out of poverty. This low wage, which is only getting lower, is keeping Bangladesh impoverished and fast fashion plays a large role.
Unsafe Working Conditions
Fast fashion's demand for cheap, fast labor creates low-quality working conditions, which can lead to horrific disasters in garment factories. In 2005, a garment factory collapsed in Dhaka, which killed 64 people and injured more than 100 others. In 2010, a Bangladeshi factory fire killed 26 and injured more than 100. Another fire in 2012 killed 112 workers and injured more than 150. However, the most tragic garment factory disaster was the collapse of the Rana Plaza building in Dhaka, which housed five garment factories that sold to countries in North America and Europe. In the collapse, 1,138 people were killed and 2,600 people were injured. The incident revealed the horrible reality of the dangers posed to underpaid Bangladeshi garment workers.
Outside of these large-scale disasters, it is estimated that there are 1.4 million workplace injuries in garment factories every year. Western corporations often manage their factories through a series of subcontractors, creating little to no presence of the actual company in the factory. This allows brands to blame any liability on the subcontractors and removes the obligation to improve working conditions.
Environmental Consequences
The cheap prices of fast fashion cause severe environmental consequences in Bangladesh. Textile production creates 1.2 billion tonnes of greenhouse gas emissions every year and consumes a lot of water. Furthermore, in order to produce clothing quickly and inexpensively, the garment factories use toxic dyes and chemicals. These chemicals are then released into nearby rivers, polluting the water supply. The World Bank estimates that around 20% of wastewater worldwide comes from textile dyes. Chemicals released into the water supply increase disease among Bangladeshi citizens.
Effects of COVID-19
The COVID-19 pandemic hit Bangladesh especially hard. In March 2020, when shutdowns began across the U.S. and Europe, a large retail fallout followed. Many large clothing brands such as Zara, H&M and Gap canceled their orders. In March 2020 alone, 864,17 million pieces of clothing from Bangladeshi factories that cost $2.81 billion were canceled after they had already been produced. This left the workers unpaid, unemployed and unsupported.
The petition #PayUp started trending worldwide, exposing the clothing brands that canceled their orders of Bangladeshi garments without compensating factories and workers. However, many large brands still have not paid. In response to the crisis, the Bangladeshi prime minister, Sheikh Hasina, announced a bailout of $590 million to be used solely for the salaries and allowances of factory workers.
Industry Reform
The garment industry is deeply ingrained in Bangladesh. If the effects of the COVID-19 pandemic taught any lesson, it is that the solution is not as simple as boycotting. Removing fast fashion would be removing almost the entirety of the Bangladeshi economy. Instead, the solution is reform. The solution is to raise awareness of the poor working conditions and put pressure on the large fashion corporations to create more sustainable clothing, humane working conditions and a livable wage. By holding companies accountable, making informed consumer decisions and advocating for workers' rights, there is hope in ending the negative consequences of fast fashion in Bangladesh.
– Georgia Bynum
Photo: Flickr
https://borgenproject.org/wp-content/uploads/logo.jpg
0
0
Kim Thelwell
https://borgenproject.org/wp-content/uploads/logo.jpg
Kim Thelwell
2021-05-26 07:31:12
2021-10-13 09:30:10
The Impact of Fast Fashion in Bangladesh