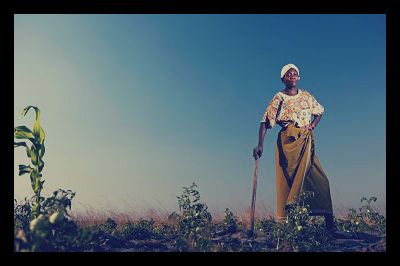 Women in Kenya are going back to a traditional practice to help hold communities together. The practice is that of communal agriculture and through a woman-led initiative, neighbors helping neighbors in farming will hopefully save the lives of over 700,000 Kenyans over a period of 20 years who would have died from inadequate nutrition.
The traditional practice used to be the norm, yet, climate change has made the outcomes of crops unpredictable and scarce resources threatened economic prosperity, forcing many to seek jobs in more urban areas. This weakened bonds between village members, which made maintaining peace within a village difficult and brought up other issues, such as problems between ethnic groups that had been living in harmony before. Weakened bonds between community members predisposed many Kenyan communities to violence in the elections of 2007 and into 2008. According to Nyokabi Wamuyu, a member of the women-led farm initiative, "Some people say they [we]re fighting for land while others do it to take political sides."
Over the next three years, the women-led farm initiative is aimed at 3,400 women farmers in the eastern areas of Kenya and in the Rift Valley. The mission of the initiative "is to equip the women with skills to make income-generating farming more attractive than subsistence agriculture." This will be done by teaching women to bond with other women over shared activities, providing activities that will give women the tools and techniques to negotiate prices and access agricultural activities via mobile devices.
This initiative succeeding will hopefully help bridge the gap between genders in Kenya. Even though the new Kenyan Constitution gives women rights to land and property, gender inequality still exists in many rural farm areas.
– Angela Hooks
Source: AllAfrica
Photo: Calista Jones
https://borgenproject.org/wp-content/uploads/The_Borgen_Project_Logo_small.jpg
0
0
Borgen Project
https://borgenproject.org/wp-content/uploads/The_Borgen_Project_Logo_small.jpg
Borgen Project
2013-03-10 20:30:25
2020-04-24 02:35:16
Women Farmers Helping to Bring Peace in Kenya