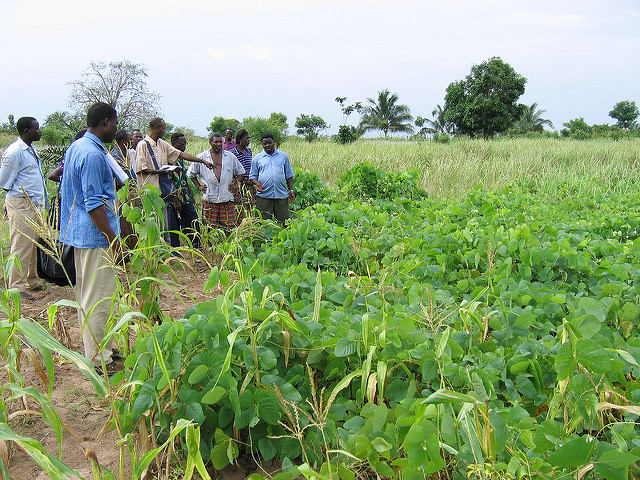 Togo is a West African nation on the Gulf of Guinea known for its palm-lined beaches and hilltop villages. With 32 percent of the population living below the poverty line, there have been efforts made toward improving sustainable agriculture in Togo.
Togo's small sub-Saharan economy is dependent on both commercial and subsistence agriculture, with cocoa, coffee and cotton generating about 40 percent of export earnings. Additional products include beans, cassava, fish, livestock, maize, millet, rice, sorghum and yams. Of the nation's total land area, 44 percent is used for cultivated crops and two percent for permanent crops like fruit- and nut-bearing trees.
The organization Fly for Life is a nonprofit with the mission to promote sustainable tourism and organic farming by improving the environment, education and incomes of farming communities. Jeremies Pimzi, a social entrepreneur, founded Fly for Life. With help from eco-volunteers, the organization has been able to successfully provide more sustainability in Togo, such as training programs in organic methods, sustainability education and financial management.
Eco-volunteers provide skills and training on increasing sustainable tourism and organic farming. In exchange, the volunteers gain firsthand knowledge about the local customs and culture and develop close relationships with the Togolese. Some of the funding from volunteers has also supported education in the small farming communities of Havu and Soumdina Mountain Village, helping families afford school for their children.
Over 90 percent of the small communities that Fly for Life engages with are dependent on agriculture for their livelihoods. Environmental issues in Togo include deforestation due to slash-and-burn agriculture, the use of wood for fuel and water pollution. The nonprofit aims to transition the nation from unsustainable farming practices to organic methods.
Another key project that addressed sustainable agriculture in Togo was USAID WAFP, or West Africa Fertilizer Program, which occurred from 2012-2017. The project was meant to improve the supply and distribution of appropriate and affordable fertilizers in West Africa. The project broadened its reach to have regional impact across the West Africa sub-region, benefiting 15 ECOWAS (Economic Community of West African States) countries as well as Mauritania and Chad.
To accomplish its goal, WAFP focused on creating a conducive policy for increased investment in the fertilizer business. It facilitated access to business, investment and financing information that allowed the private sector to deliver quality and affordable fertilizers to farmers.
Because of the work of organizations and the implementation of eco-friendly ideas and practices, there can be better, more sustainable agriculture in Togo.
– Julia Lee
Photo: Flickr
https://borgenproject.org/wp-content/uploads/logo.jpg
0
0
Borgen Project
https://borgenproject.org/wp-content/uploads/logo.jpg
Borgen Project
2018-02-11 07:30:25
2019-12-09 06:15:40
Addressing the Lack of Sustainable Agriculture in Togo