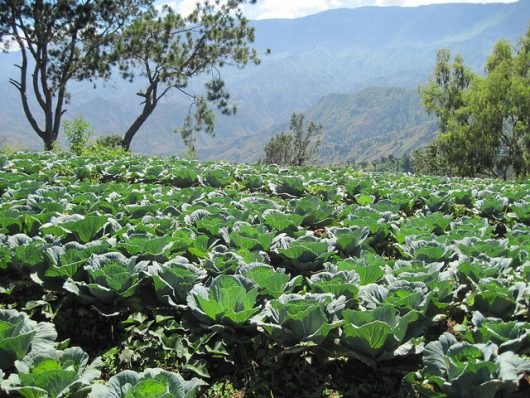 Located in the Caribbean, the country of Haiti has experienced tremendous devastation over the last decade. Political instability, a poor economy and the massive earthquake in 2010 has left millions of Haitians living in deep poverty and facing food insecurity. Prior to the earthquake, Haiti experienced some of the highest rates of malnutrition in the western hemisphere.
Approximately 40 percent of households are undernourished and up to 30 percent of children experience chronic malnutrition. This issue prompted finding solutions through sustainable agriculture in Haiti, and the Haitian's government efforts coupled with support from the United States has led to significant improvements over the past several years.
Feed the Future Initiative
The Haitian economy is heavily dependent upon agricultural production. More than half of the entire population relies on agriculture as a primary source of income. However, the country suffers from significant environmental degradation that has continued to perpetuate food insecurity throughout the country.
Through the collaboration of USAID and the Haitian government, the Feed the Future Initiative was launched to improve sustainable agriculture in Haiti. The initiative works directly with farmers to increase agricultural production, modernize natural resource management and improve food security. Feed the Future has worked with more than 70,000 Haitian farmers to increase the production of maize, beans, plantains and rice.
As Haiti is highly susceptible to natural disasters, Feed the Future promotes proper resource management as a way to encourage farmers to reduce the planting of erosive crops in environmentally vulnerable areas. One major way they accomplish such a task is through the use of crops such as cacao and coffee — these types of plants are far less damaging and significantly more profitable for local Haitian farmers.
Partnerships for Change 
Through their partnership with the Rural Research Center for Sustainable Development, USAID has trained over 7,000 farmers in sustainable farming techniques as well as established greenhouses that help to reduce pressure on the degraded environment. The program also put forth a value chain approach that connects farmers directly with suppliers and various food manufacturers.
In utilizing this chain, farmers can gain financial stability and expand sales. Feed the Future also improves post-harvest handling, storage and processing. This, in turn, allows for greater market access and the ability to export products through sustainable agricultural practices.
Establishing sustainable agriculture in Haiti is fundamentally important for economic growth and improving the country's overall food insecurity. By having initiatives such as Feed the Future, Haitians can be lifted out of poverty and experience tremendous economic growth.
Through greater financial support from the United States and other countries around the globe, sustainable agriculture in Haiti can be achieved and the livelihood of millions can be improved.
– Sarah Jane Fraser
Photo: Flickr
https://borgenproject.org/wp-content/uploads/logo.jpg
0
0
Borgen Project
https://borgenproject.org/wp-content/uploads/logo.jpg
Borgen Project
2018-01-08 01:30:20
2019-12-06 13:09:52
Main Methods of Improving Sustainable Agriculture in Haiti