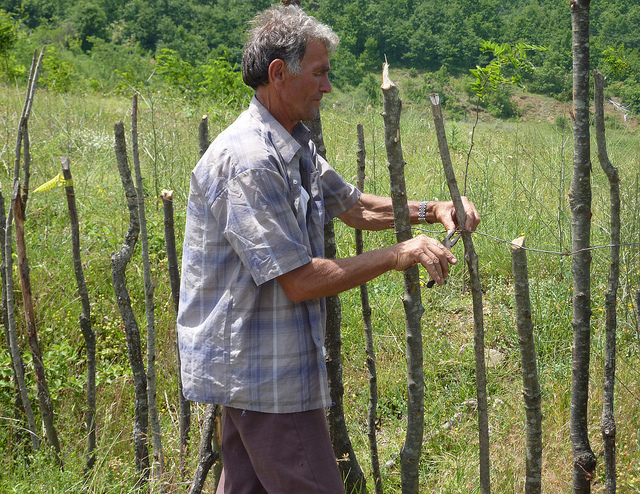 Improved agricultural practices are currently bringing about poverty reduction and improved food security across the world. Sustainable agriculture in Albania is no exception. In a nutshell, sustainable agriculture is the effort to ensure that present agricultural activity will not deprive future generations of the ability to meet their own needs. This involves replacing problematic practices with ones that are easier on the environment, more economically profitable and less exploitative.
Major interest in sustainable agriculture in Albania is currently being generated and supported by two key sustainable development initiatives. A total of 71 percent of the Albanian population is employed in the agricultural sector, contributing 21 percent of Albania's GDP. While many Albanians have long depended on agriculture as a means of subsistence, there are several cash crops endemic to the country which can compete strongly on the global market, especially when they are grown organically. This means that promoting sustainable agriculture in Albania would serve the Albanian people very well and lift many people out of poverty.
Two projects, in particular, are promoting sustainable agriculture in Albania and seeing great successes. Sustainable Agriculture Support in Albania, funded by the Swiss government, is undertaking efforts to introduce organic farming, to help organic farmers become and stay competitive in the global market and to promote organic Albanian products to consumers around the world. This project is working primarily to make organic farming profitable and attractive for Albanian farmers, and in doing so promote sustainable agriculture in Albania.
The Food and Agriculture Organization (FAO) of the United Nations also has an ongoing partnership promoting sustainable agriculture in Albania. In addition to the promotion of organic farming, the FAO is also working to promote innovation in agricultural practices. It is anticipated that greater innovation will help to keep Albanian agriculture profitable and competitive, especially as the country moves closer to European Union membership.
Other goals of the FAO partnership with Albania include preserving Albania's rich biodiversity and helping to improve the management of Albanian fisheries in the Adriatic Sea. These are all critical if Albania is to successfully join the EU, which sets strict standards for agricultural products. Additionally, EU membership could pose a threat to Albanian farmers who cannot withstand the international competition that comes with access to the EU market. However, the hope is that the adoption of more sustainable practices will improve Albania's competitiveness.
While some of the projects promoting sustainable agriculture in Albania may seem simple, their potential impact on rural Albanian communities cannot be understated. Rural Albania is seeing a massive outflow of people heading either to major cities or overseas to find better-paying jobs and a better quality of life. Rural areas tend to be underdeveloped and some lack basic modern conveniences.
Efforts to promote sustainable agriculture often bring with them improvements that, while helpful for farming, also majorly improve daily living for local residents. An example of this is a German-backed project called Support for Agriculture and Rural Development in Disadvantaged Areas in Albania (SARED). In addition to things like more fuel-efficient tractors and irrigation systems, sustainable development projects like SARED have also brought electricity and wastewater treatment systems to rural Albania.
The hope is that these projects will not only provide a better future for rural Albanians but that in doing so they will stop the steady stream of people leaving these parts of the country in search of a better life by enabling them to create one where they are.
– Michaela Downey
Photo: Flickr
https://borgenproject.org/wp-content/uploads/logo.jpg
0
0
Borgen Project
https://borgenproject.org/wp-content/uploads/logo.jpg
Borgen Project
2018-01-07 07:30:26
2019-12-18 14:56:32
2 Key Projects Promoting Sustainable Agriculture in Albania