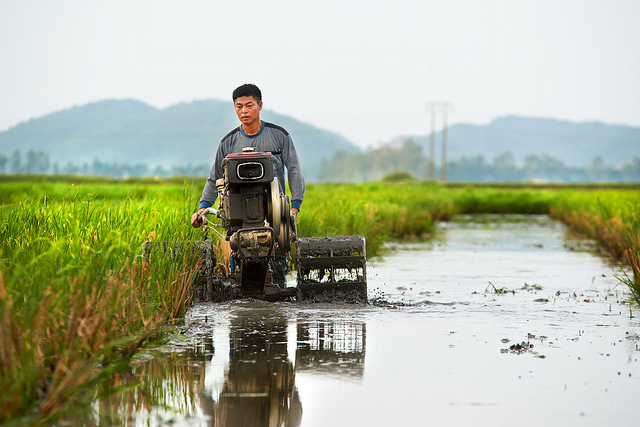 Vietnam is a country that thrives on agriculture. Even though many consider the country to be poor, agriculture is the base of the country's economy. With a 12-month growing season, the country can get two or three harvests in a single year. One of the biggest problems in this sector is that much of Vietnam's agricultural industry is driven by manual processes.
Agriculture in Vietnam
Vietnam is well known for cheap agricultural exports like coffee beans, rice, cotton, peanuts, sugarcane and tea. The country comes in second for rice exports, with 19.6 percent farmland and 69 percent irrigated land available for farming.
At least 30 percent of exports are crops grown year around. Other not so popular exports that are grown in parts of the country are cassava and sweet potatoes. Some places even have fruit trees that grow in certain seasons like bananas, jackfruit, oranges, mangoes and coconuts. For a country that has most of the economy in agriculture, and is poor otherwise, food is never in short supply.
Challenges
Agriculture in Vietnam is the pillar of the economy. Though the country produces a large number of crops, the quality is low and so is the competitiveness. The more agricultural products produced, the lower the cost and Vietnam cannot seem to break the vicious cycle.
The markets have plenty of room for all the excess product, but farmers are not growing for the new demands the market requires. Vietnam is used to a more traditional market, which makes it even harder to compete with countries like Cambodia, Pakistan and Myanmar. This way of farming is becoming unsustainable and some growers are abandoning their farms for jobs in the city. Farmers are in poverty because of this cycle, and many do not have outside skills after a career in farming. A new policy called the "motivation" is set to push farmers and policy officials to take advantage of global integration and dig further into the demands of the market. This could help stop the vicious cycle that is occurring and improve agricultural practices.
What Is Being Done
The primary areas where farming is done are near the Red River Delta and Mekong River Delta. Vietnam's agricultural industry involves intensive labor, so water buffalo is used on many farms today. Farmers use dikes which are like dams to control the rivers. This lets the farmers control more or less water in certain areas so the crops can get the right amount and grow properly. Some farmers gather wild plants by the rivers and in forests to cultivate seeds, hoping to increase crop revenue from the rare wild plants and it also brings diversity to the agriculture. Farmers created a new way to prevent pests from affecting the rice plants by using an electric device to find them instead of pesticides. If farmers planted the rice immediately after infestation, the plants grew stronger and built resistance to the pests, known as brown planthoppers. Many policies are being rolled out to increase diversity in the products, finding new markets and retaining more natural ways to produce and protect crops.
An exciting new irrigation system has been proposed for Vietnam agriculture and will open doors to new markets. The Asian Development Bank approved $100 million to help finance right modernized irrigation systems in five drought-affected areas. The upgraded irrigation system will bring water on demand with pressurized pipe systems. This will help improve agricultural productivity and give access to grow high-end crops such as dragonfruit, grapes and mango. It will improve the quality of Vietnam's coffee beans and the variety of peppers the country grows. This system will also improve the quality of groundwater and minimize management services. Providing water on demand will ensure crops get exactly how much water they need and even provide water during unfavorable climate change. The new system could increase diversity in the market, gross profit and fight poverty within the country.
– Kayla Cammarota
Photo: Flickr
https://borgenproject.org/wp-content/uploads/logo.jpg
0
0
Kim Thelwell
https://borgenproject.org/wp-content/uploads/logo.jpg
Kim Thelwell
2019-04-26 09:31:28
2019-12-18 13:32:00
Agriculture in Vietnam: On the Road to Development