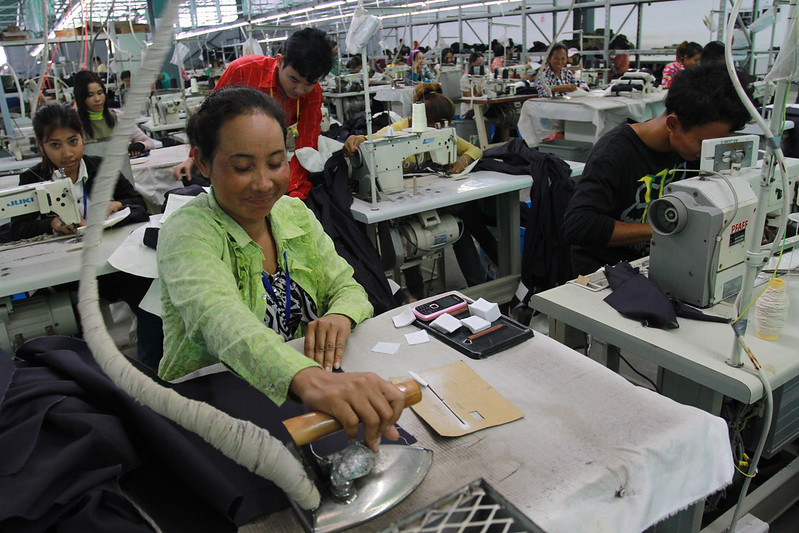 A transnational company is a global company that has factories and offices in different countries around the world. The headquarters are usually in advanced countries and its factories and manufacturing facilities are in less developed countries. Most of the transnational companies have home headquarters in Western Europe, Japan or the United States. Suppliers can be anywhere in the world depending on the necessary goods. However, companies usually set up their manufacturing centers in places where labor is cheap to keep operating costs low.
The operation of transnational companies in less developed countries where rates of poverty are high can be helpful in aiding people to break out of the cycle of poverty, but the risks of exploitation and low wages are still present.
Advantages
Creating jobs for the local population – Undoubtedly, transnational companies create jobs for the local population; they account for at least one-fifth of total paid employment in manufacturing in a number of developing countries. The creation of more and more jobs not only boosts the economy of the country but also provides local workers with a stable income, albeit that pay is low. Furthermore, these jobs help in improving the skills of its employees, which can then be transferred to future jobs and taught to others in their communities.
Economic growth for the country – Transnational companies bring much-needed money into a developing nation. Although most of the profits do return to the company's country's headquarters of origin, the local economy does benefit. By boosting business activities in the country, transnational companies contribute to economic growth and development. They could also act as growth poles for other similar companies by encouraging them to locate to that country, thus bringing in even more economic support.
Developing infrastructure and technology – Developing countries do not have sufficient resources needed to boost research and development, leaving them technologically behind. Transnational companies however bring in technology and knowledge that the host country does not possess, consequently furthering their development. They are a source of inventions and innovations. Also, infrastructure in the ways of transport links, airports and services are also developed as a result of transnational companies.
Disadvantages
The exploitation of workers – Even though transnational companies do provide employment opportunities, they also can exploit the employees. The minimum wage rate for the workers is very low when compared to the work that they complete and the long hours spent, commonly with little or no breaks. The income that workers receive may be stable, but it is not enough to survive on, let alone enough to live a decent quality of life. In a desire for cheap labor, working conditions may also be poor and sick leave that workers are entitled to may be refused.
Environmental damage – Transnational companies often receive critics for their harm to the environment. The use of cheaper, non-renewable resources limits sustainability and the burning of materials such as plastic and rubber pollutes the environment. Developing countries need environmental sustainability since for many their health and livelihoods greatly rely on the natural environment and the risks of air and water pollution further diminish their development.
H&M in Ethiopia
One example of transnational companies operating in a less developed country are the textiles and fashion companies such as H&M, Guess and others in Ethiopia. They create job opportunities for local people and particularly for women. However, as mentioned above, the risks of exploitation are prevalent. Garment workers in Ethiopia are among the lowest paid, with a 2019 study from the Center for Business and Human Rights reporting that they have an extremely low pay of just $26 a month. This does not cover basic needs thus not enabling the workers to live a decent quality of life.
There are several NGOs who work towards tackling exploitation in the garment industry; one such example is CARE International, one of the biggest defenders of workers' rights in all areas, including the fashion industry. It currently has work going on in 95 countries around the world, reaching 56 million people directly via approximately 1,000 projects and indirectly working towards 340 million lives globally.
The Overall Impact on Poverty
So, transnational companies do provide jobs and boost a country's overall development, but at what cost? There are other ways to help local workers in improvising their livelihoods without the risk of exploitation and capitalist benefits. One such example of this is Farm Africa, a more sustainable and locally oriented initiative. Farm Africa is a charity that helps to reduce poverty by helping local people in eastern Africa to earn more from their produce. Working in DR Congo, Ethiopia, Kenya, Tanzania and Uganda, Farm Africa works to boost the economic welfare of the people, whilst also ensuring environmental sustainability, thus protecting their environment for generations to come.
For a transnational company to be effective, it would need to involve the local people, not just use them for cheap labor to boost its own profits. It is imperative for an initiative to tackle poverty to be sustainable not only environmentally, but also socially and economically.
– Ruby Wallace
Photo: Flickr
https://borgenproject.org/wp-content/uploads/logo.jpg
0
0
Naida Jahic
https://borgenproject.org/wp-content/uploads/logo.jpg
Naida Jahic
2023-01-05 07:30:34
2023-01-03 10:18:50
Transnational Companies: The Good and The Bad