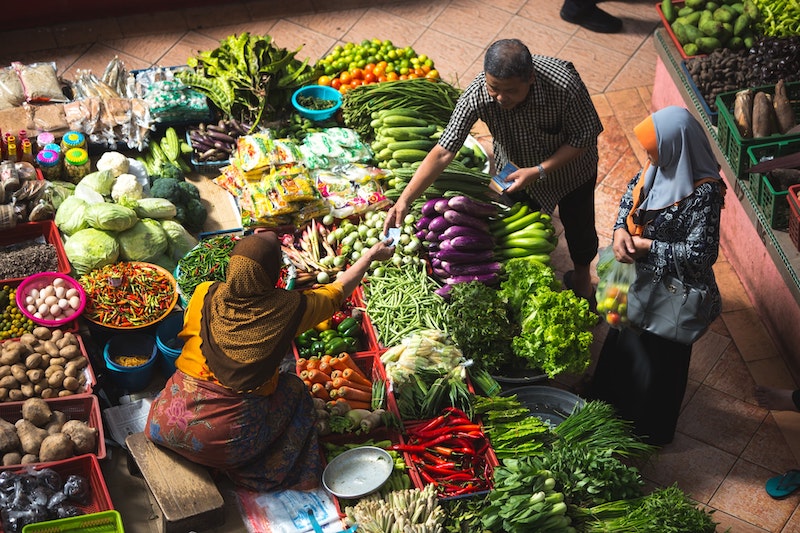 Many food industries exploit workers and degrade the environment to produce cheap, low-quality food. Ethical food consumption reduces poverty by limiting support for food companies that do not prioritize human rights or environmental sustainability. With the proper knowledge and motivation, people can adopt a wide range of healthy, affordable, ethical and sustainable food practices.
7 Ethical Food Consumption Practices
Try a plant-based diet. In an interview with The Borgen Project, David Julian McClements, a food scientist and professor of food science at the University of Massachusetts, said that plant-based diets can reduce pollution and biodiversity loss, as well as land and water use. Environmental disasters and degradation often hurt impoverished communities because local governments lack the funds and resources to bounce back. Plant-based diets can help impoverished communities by reducing environmental degradation, 

which can be complex and costly to address. Plant-based diets can also combat food shortages, water shortages and water contamination. The meat and dairy industries deplete large amounts of water to hydrate animals and clean up waste, contaminating water supplies worldwide. Water contamination can be fatal to impoverished communities lacking proper health care and technology to ensure a clean water supply. Pursuing a plant-based diet reduces support for particular meat and dairy companies that degrade the environment at the cost of human health, especially in impoverished communities.

Shop locally. Buying food from local businesses and farmers' markets has several social and ecological benefits. When well-managed, small local farms preserve soil health, nearby water sources and plant biodiversity. Small farmers often plant a wide variety of crops compared to large monoculture farms that only grow one or a few crop varieties and ship their produce to grocery stores situated thousands of miles away. Shipping and driving food long distances reduce the freshness and taste of food and contribute to global warming. Local food can also be healthier than imported food because farm-to-table food loses fewer nutrients in the transportation process. Imported food may sit in warehouses, trucks or planes for long periods, during which the food can lose nutrients. Additionally, local, ethical food consumption reduces poverty by supporting small businesses and boosting local economies.
Shop organically. Organic farming involves growing food without using synthetic pesticides or fertilizers. Organic farms can reduce pollution, improve water and soil quality, increase biodiversity and limit human and environmental contact with toxic substances. Therefore, consumers help preserve their local environment and human health by purchasing organic food products. Organic farming can be especially beneficial to impoverished communities because of its environmental benefits. Organic farms improve public health and soil fertility, which benefits people, the environment and the economy. Due to socioeconomic and ecological benefits, one can view purchasing organic products as a form of ethical food consumption, which in turn, reduces poverty.
Shop from businesses that pay workers ethical wages. When at the grocery store, taking a minute to glance at the label on a food product before buying it can make a significant difference in ethical food consumption over time. Identifying labels like Fair Trade can help support programs and businesses that pay workers fair wages and ensure safe work conditions. Supporting local food businesses and farms is another way to reduce support for large, corporate brands that exploit workers and degrade the environment. For example, buying products from local farmers' markets supports small farms that prioritize ethical wages and sustainability more than large corporations. However, in places where farmers' markets are unavailable, simply reading and researching the labels on food at the grocery store can help support fair wages and environmental sustainability.
Grow a garden. Even if it is just a few plants in a small garden, growing one's food can be a great alternative to large-scale, exploitative agriculture. Home-grown, ethical food consumption reduces poverty by minimizing support for corporations that do not pay workers fair wages. Sourcing food from a garden can also improve health and benefit the environment. Gardeners know precisely where their food came from, how they grew it and what they used to grow it, leaving no ethical or health-related issues up for question. Maintaining a large garden may be unrealistic for people who have limited free time, but even planting something small, like an avocado plant, can make a difference in the outcome of one's food consumption over time.
Consume less single-use packaging. Reducing one's consumption of single-use food packaging benefits both people and the environment. People can reduce the single-use packaging they consume by utilizing reusable bags, containers, straws and more. Zero-waste stores are emerging as more interest circulates zero-waste living. While a zero-waste lifestyle may seem impractical to the average person, any steps in the direction of zero-waste living can make a difference. Reducing one's use of solid, single-use products factors ethical food consumption because single-use packaging is abundant in the food industry. Ethical food consumption reduces poverty by lessening support for exploitative brands and initiatives, including the plastic industry.
Avoid wasting food. Much like plastic waste, food waste can be detrimental to the environment, especially for impoverished communities. According to the World Wildlife Fund, people could reduce up to 8% of human-made greenhouse gas emissions if they stopped wasting food. Meal planning, purchasing food mindfully, utilizing one's freezer and making good use of leftovers are all simple ways the average person can reduce the amount of food waste she produces.
By adopting ethical, sustainable food practices in daily life, consumers can make a significant impact in reducing global poverty and food insecurity while conserving the environment.
– Cleo Hudson
Photo: Unsplash
https://borgenproject.org/wp-content/uploads/logo.jpg
0
0
Lynsey Alexander
https://borgenproject.org/wp-content/uploads/logo.jpg
Lynsey Alexander
2021-11-20 07:30:26
2021-11-19 09:32:07
How Ethical Food Consumption Reduces Poverty