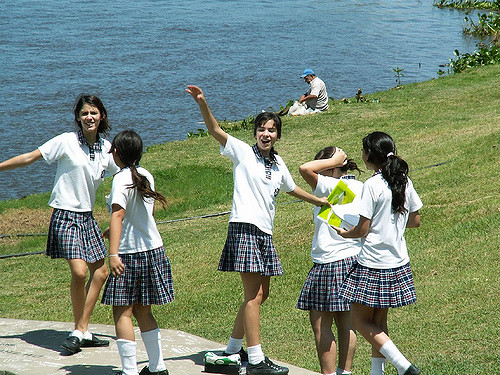 To educate a woman is to give her the tools to create a brighter future for herself and her family. Argentina is a nation known to be improving its gender equality; in fact, women currently fight for equal education and job opportunities to men. However, girls education in Argentina is an ongoing process, and women are still placed second to men in many situations. Here are the top 10 facts about girls' education in Argentina.
Top 10 Facts About Girls Education in Argentina
Early marriage and household tasks are seen as common female roles in South America. Many girls stay at home and attend to the "domestic" jobs — around 10 percent of girls between the age of 15-24 are in charge of the home. However, it's usually these young girls in the poorest sectors of Argentina who need education the most, but struggle to get it.
 Young girls who live at home often receive little cash assistance and don't have educational deficits. According to a report by the Observatory of Social Debt in Argentina, "19.1 percent have limitations to receiving education and 16.8 percent don't even go to school." These young girls who don't go to school find themselves stuck in the cycle of poverty. As they get older, they frequently can't find a job because of their lack of an educational background or previous job experience.
Early childbearing is an issue that causes young girls not to attend school. This is somewhat ironic, as girls who attend school are taught about sexual education and methods of prevention; as a result, early pregnancies are less likely to occur. Most often, those in ongoing poverty find themselves in these situations of early motherhood due to the lack of knowledge about pregnancy.
The prehistoric idea that men are more dominant than women prevails in the Argentine culture. There have been cases where a woman is discriminated against or even abused if she tries to defend her education. The Argentinian workforce still does not equally value men and women workers.
Women are seen often in the informal sphere — an area of the economy that is untaxed, unregulated and usually provides low-paying work. Although women might find jobs, they usually find themselves in these kinds of precarious workplaces.
Argentina had their first female president, Cristina Fernandez De Kirchner, from 2007 to 2015. She was seen as a female role model who empowered young girls and women to strive for higher-up positions and value getting an education.
One of the Millennial Goals in Argentina is to promote gender equality and empower women. When looking at this with regard to jobs, the goal strives to remove the "glass ceilings" that prevent women from being promoted to higher and better-paid positions, especially if women have the same education level as the men applying for the same job.
In March 2015, Michelle Obama created the Let Girls Learn initiative. This program brings together the Department of State, USAID, the Peace Corps, the U.S. Department of Labor, MCC and the U.S. president's emergency fund for AIDS, and is a government-wide effort to help adolescent girls complete their education. A key part of the effort is to encourage and support community-led solutions and reduce any potential barriers that would prevent a young girl from getting an education. Since then, the group has worked with organizations like the World Bank, a global organization that in 2016 agreed to invest $2.5 billion over the next five years in education programs that directly benefit young girls.
Another event in 2015 was the movement "Ni Una Menos" or "Not One Less." Social media made headlines when thousands of cities around the countries protested against the unfair treatment of women. The Not One Less group protested against the violence of women in Argentina in the workplace.
Women are now often getting equal or more education than men. When viewing the national statistics and census of Argentina, the INDEC mentions that the "society must have an equal distribution of educational opportunities among both genders on all levels." In fact, according to statistics from UNICEF, women are seen attending school 2-3 percent more than men for all types of education. As a result, women should be given the same job opportunities if they're working as hard or even harder than their male counterparts.
Acquiring a Female Future, One Woman At a Time
A lack of education is one of the core factors related to poverty — girls who are educated find themselves in better living situations. Although these were the top 10 facts about girls' education in Argentina, there are plenty of other points of note where the women are restricted and want to strive for a better future. As Argentinian women continue to fight for a change, the future will hopefully become better for the younger generation.
– Negin Nia
Photo: Flickr
https://borgenproject.org/wp-content/uploads/logo.jpg
0
0
Borgen Project
https://borgenproject.org/wp-content/uploads/logo.jpg
Borgen Project
2018-08-06 01:30:20
2019-09-02 16:46:10
10 Crucial Facts About Girls' Education in Argentina