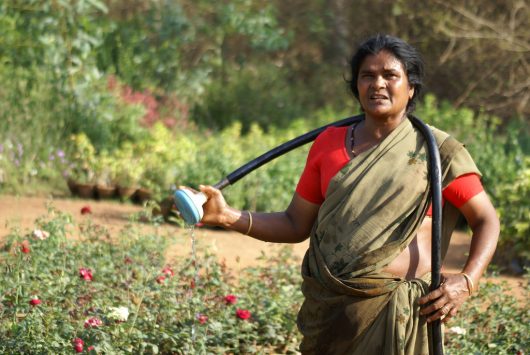 India is the second most populous country in the world and hosts one-third of the world's extreme poor. It has the third highest number of people living with and dying from HIV/AIDS, and 60.4 percent of its population lives with unimproved sanitation facility access, mostly affecting Indians living in rural communities. Here are four ways to help the extreme poor in India.
Donate
According to the United Nations International Children's Emergency Fund (UNICEF), 47 percent of Indian girls are married by the age of 18. While it is illegal for girls in India to marry before the age of 18, many still do because their families live in poverty.
One method to combat child marriage is education. The non-profit Girls Not Brides, for example, is currently fundraising for Shadhika, an organization that pays tuition for at-risk Indian girls. Right now, they are $8,568 away from a $30,000 goal.
Donations to this cause enable more Indian girls living in extreme poverty to attend school and avoid underage marriage. By donating to this and other similar organizations, those who are not currently in India can still assist those in poverty.
Contact Congress
For 2017, the U.S. government plans to spend $49.5 million of foreign aid on health in India.  Half of this aid will be allocated for HIV/AIDS. To ensure the effectiveness of this aid, Congress is currently in the process of potentially passing the Global Health Innovation Act (H.R. 1660).
This act requires the United States Agency for International Development (USAID) to give an annual report to Congress describing the "development and use of global health innovations" in their work.
Emailing or calling elected representatives will support this bill on top of promoting the use of health innovation to achieve an HIV/AIDS-free generation. Representatives need to know that their constituents are interested in a goal in order for it to get the attention it deserves.
Shop
Shopping is another way to help the extreme poor in India. Currently, about ten million Indian women are commercial sex workers–the Anchal Project wants to change that.
The Anchal Project employs Indian women, 85 percent of whom were once in the sex trade, to create and make original designs for ecologically sound clothing and fabrics (mainly scarves).
Shopping here will support women in their goal of earning full-time employment and leading change in their families and communities, in effect supporting the extreme poor in working their way out of poverty.
Stay Informed
As most of the world's poor live in India, the country is a great focus for The Borgen Project and other organizations working to fight poverty. Read up on current struggles and efforts to improve conditions for the poor in India to better learn how you can keep helping in the future.
While people are often told that they as an individual can change the world, it often seems that the change desired is too arduous to achieve. Nevertheless, a community of people can come together to end global poverty and help the extreme poor in India.
– Sean Newhouse
Photo: Flickr
https://borgenproject.org/wp-content/uploads/logo.jpg
0
0
Amy
https://borgenproject.org/wp-content/uploads/logo.jpg
Amy
2017-08-19 01:30:00
2020-06-16 09:25:43
How to Help the Extreme Poor in India