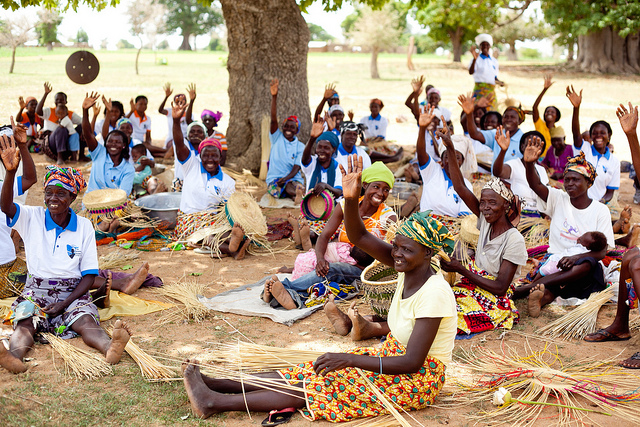 The social enterprise, "Evolvin' Women," connects hospitality partners in Dubai with women from developing countries who lack access to education and employment. Evolvin' Women's international work and internship placements provide women in Ghana with training and experience in the hospitality industry.
These connections would otherwise be non-existent in many women's lives due to personal, political and cultural circumstances in the developing world. Training opportunities empower women to return to their home countries with higher-paying jobs and better suited to support their family, community and national growth.
Evolvin' Women
Based in Dubai, Evolvin' Women empowers women to acquire leadership roles both in business and in their communities, especially in the Ghanan hospitality industry. Year-long internships in Dubai provide training across the different functions of hotel operations, via both face-to-face and e-learning methods.
Interns in Dubai receive hundreds of mentorship hours and complete online certified training programs. According to Assia Riccio, founder of Evolvin' Women, entry level hospitality work in Ghana pays around $400 a month.
Life at Home Post-Dubai
After completing the Dubai program, women can return home with double the pay grade. After 14 months with Evolvin' Women, entry level workers can return with the skills of a supervisor, which is often a position filled only by men. In addition to a pay increase for those completing the program, the hotels receive a "social impact" report, which illustrates how women are better equipped to support their families and other women in their own communities. By empowering women economically and getting more women "at the table," the plight of positive social and political change becomes feasible.
Evolvin' Women measures its impact in how it fulfills the United Nations Sustainable Development Goals (SDGs). The organization focuses on "Quality Education," "Gender Equality" and "Decent Work and Economic Growth," and as Professor Jeffery of MiddleSex University in Dubai and mentor to the women says, "Economic growth through the advancement of women will not be possible unless we provide women with opportunities and also empower them to take up those opportunities."
By educating and promoting the working capacity of women in developing countries, Evolvin' Women increases gender equality. In places like Ghana, women make up more than half of the population but their role in all walks of society is second to men.
Creating Gender Equality
Out of 110 million out of school children in developing nations, 60 percent are girls. Families often choose to educate their first boy due to financial reasons, which oftentimes leaves girls of the family with little social opportunity. Programs like Evolvin' Women help break this cycle by providing tools these women desperately need to become influential and mobile in their communities.
Evolvin' Women is part of Dubai's Corporate Social Responsibility Program. It receives support from its Dubai Startup Hub that provides entrepreneurial assistance, the Dubai Chamber of Commerce and Industry, and the Market Access program that facilitates corporate connections with the hotel group Sofitel, who hosts Evolvin' Women at The Retreat Palm Dubai. Evolvin' Women is also a member of Dubai Business Women Council and Consult And Coach For A Cause.
Going Above and Beyond
All these programs demonstrate how countries like The United Arab Emirates can go above and beyond traditional aid. In providing entrepreneurial opportunities in Dubai, organizations like Evolvin' Women have the chance to reach developing countries in new and meaningful ways. Founder Riccio sees there is a clear need to help developing countries beyond aid packages.
Aid can be a temporary fix that changes millions of lives, but funds cannot be expected to forever flow from outside resources. Organizations like Evolvin' Women and Dubai-based entrepreneurship programs take the initiative to empower women in developing countries above and beyond the expectations of aid, setting a precedent for social change through entrepreneurship.
– Joseph Ventura
Photo: Flickr
https://borgenproject.org/wp-content/uploads/logo.jpg
0
0
Borgen Project
https://borgenproject.org/wp-content/uploads/logo.jpg
Borgen Project
2018-07-25 01:30:30
2019-09-12 10:45:32
"Evolvin' Women" Fights Gender Inequality in Ghana